Post contains Amazon Affiliate links. As an Amazon Associate I earn from qualifying purchases. Please refer to our disclosure policy for more information.
Sometimes I like creating meals that have a variety of different courses and that take longer to prepare. However, most days, I would rather just make something simple that my family will love and involves easy cleanup. That's why I created my own version of Homemade Chicken Tenders. These were a hit in my home and I've made them twice since. I think once your family tries them, they will definitely want them again!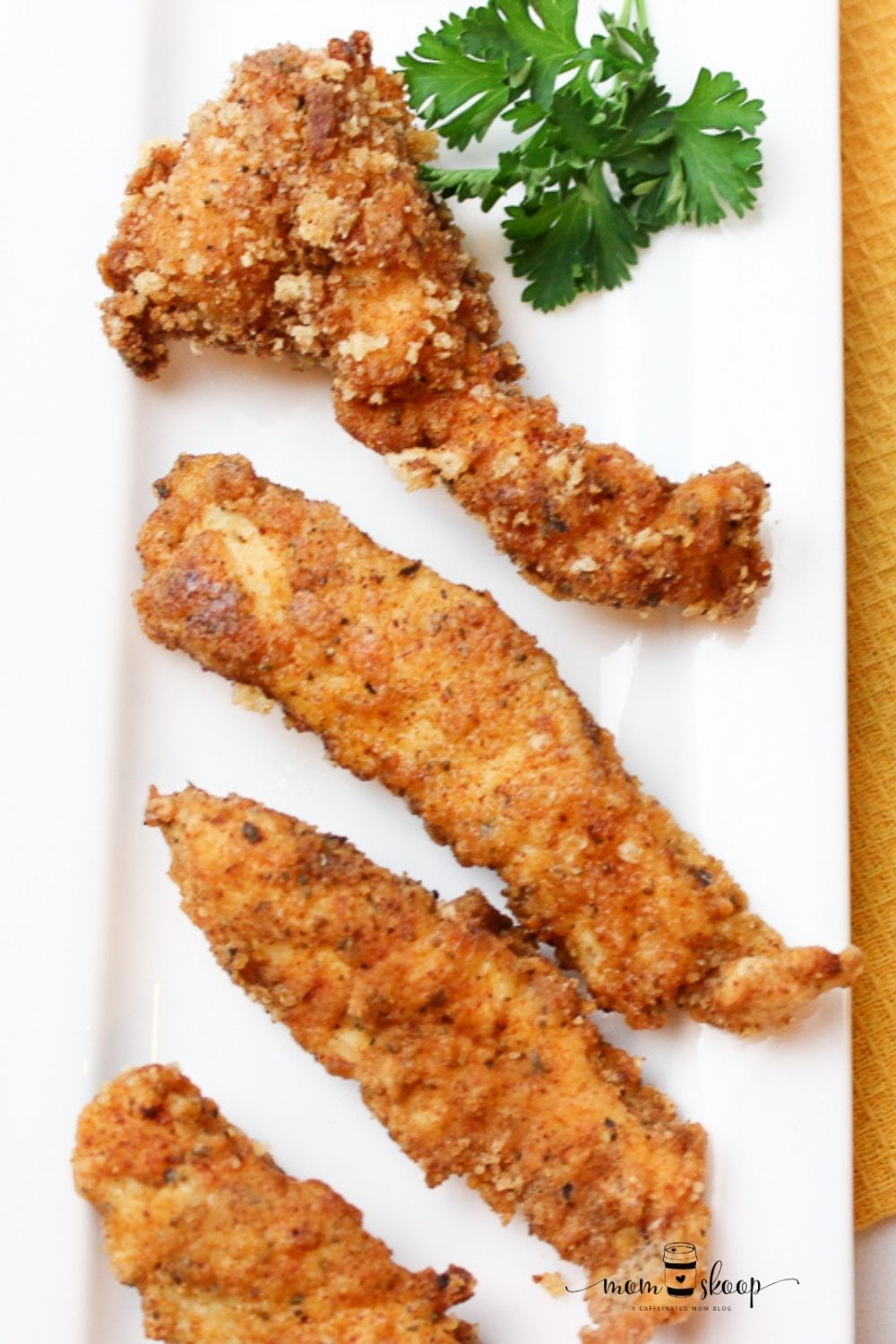 How often do your kids' order chicken tenders when you are dining out? Mine seem to order them every time we go out; regardless of where we are dining.
Don't get me wrong, they will try other things but a plate full of chicken nuggets or tenders is always a safe go-to for their picky palates. Speaking of picky kids, I have a few easy to make recipes that use chicken as the main ingredient that they may actually like as well. My Chicken Tacos, this quick and easy Cajun Chicken Pasta, and my simple Buffalo Chicken Poutine.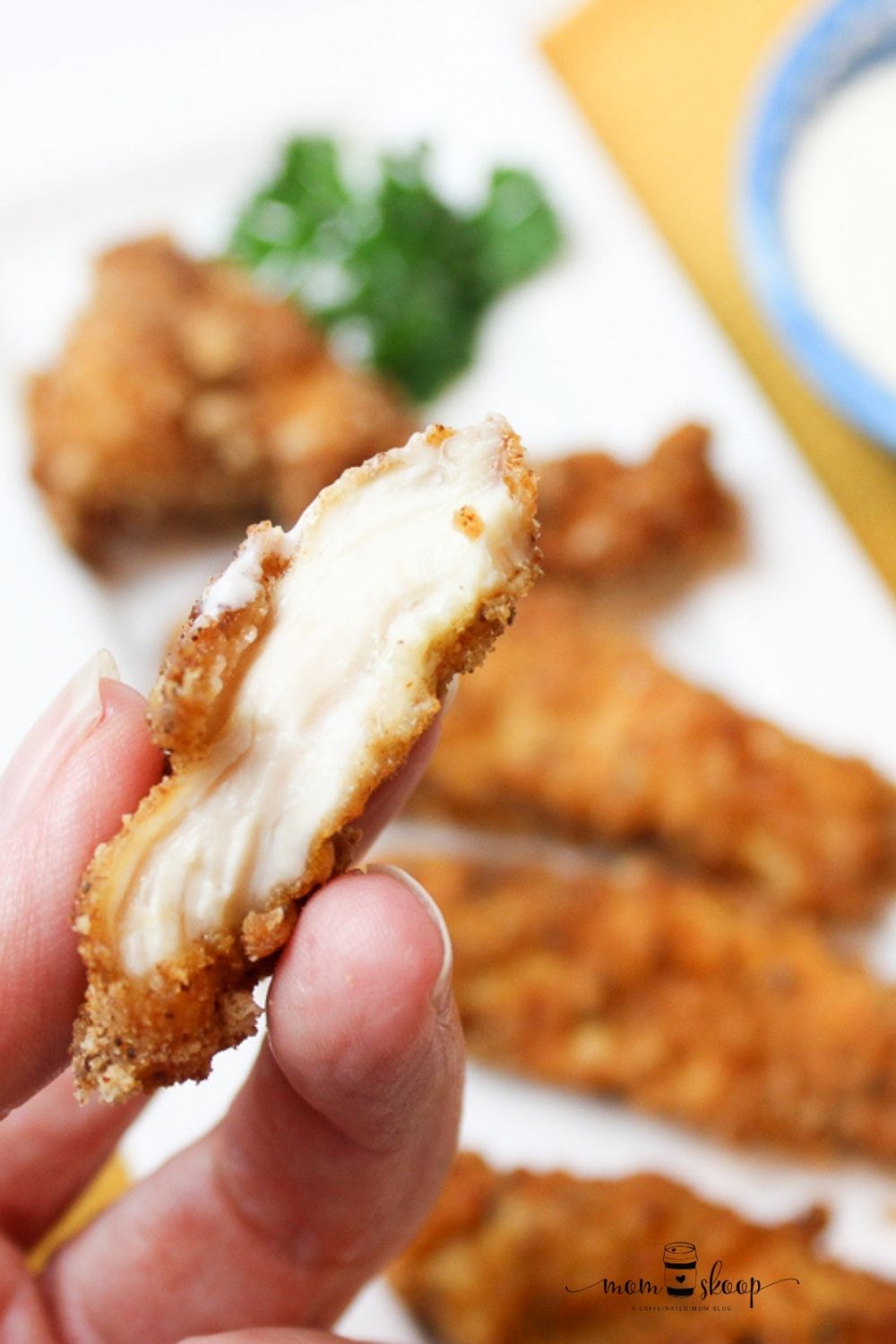 Before you get started on this easy dinner recipe, here are a few simple tips and suggestions.
Why Should You Make This Recipe?
Granted this isn't one of those unique recipes that nobody else has ever made. But, I think it's one of those things that once we are reminded how EASY making these Chicken Tenders are, you will definitely start making them a lot because they are:
Quick and Easy - life is busy enough and we need more recipes that are simple and easy to make.
Kid-friendly - kids absolutely love chicken strips so why not make them at home?
Taste-friendly - let's be honest, who doesn't love chicken nuggets?
What You'll Need 
You'll find a complete list in the recipe card regarding the ingredients and the amounts you'll need.
Ingredients
Buttermilk - if you don't have this ingredient on hand, you can easily substitute it by mixing milk and vinegar together.
Breading - if you don't like panko, you can use crushed pork rinds, bread crumbs or potato chips.
Instructions
Step 1 - the most important step when making this recipe is marinating your chicken before you are ready to make the recipe. By soaking the chicken, it helps tenderize the chicken. Even marinating the chicken for an hour in buttermilk before making the tenders will help.
Step 2 - once the chicken has marinated, now it's time to prepare the recipe. There are a few key pieces of equipment that I highly suggest you invest in for your own kitchen! Your skillet and the thermometer. These two items are what I use every time I fry anything.
Step 3 - since it will take close to 15 minutes for your oil to be heated to the correct temperature, you will need to get that step started as soon as you are ready to make the chicken.
Step 4 - setting up a dredging station. You will need three deep bowls to do this step. You will need one bowl for the egg, one for the flour, and the last one will have the breading and the seasonings. You will dip each piece of chicken into the flour first, then the egg wash, then the breading.
Step 5 - next is cutting up your chicken into either strips or nuggets. Once that's done and the oil is ready, you can start the dipping process. Remember to use one hand for the dipping process so your other hand stays clean in case you need to handle other things.
Step 6 - Deep-fry the chicken until it's cooked thoroughly to 165 degrees. Then drain the tenders on paper towels and serve with your favorite dipping sauces such as ketchup, ranch, honey, honey mustard, BBQ, and sweet and sour. Another investment that you need to make in your kitchen is a good meat thermometer. I recently had to buy a new one after my old one quit working. I am really liking this one:
Variations
If you want to change up how you serve chicken tenders, how about making a Spicy Garlic Chicken Tender Salad?
FAQ About This Recipe
How do you make Homemade Chicken Nuggets?
The last time I made this recipe, I made them into nuggets instead of tenders. Just cut your chicken into bite-sized pieces instead of strips. That's it. You'll have chicken nuggets in no time.
How do you make Chicken Tenders crispy?
By dipping your strips into a crunchy coating before adding them into the hot oil. You can use panko, bread crumbs, or even crushed pork rinds.
What goes with this recipe?
You can serve up French fries, onion rings, potato chips, tater tots, waffle fries, or even steak fries.
Why does my fried chicken come out soggy?
Because the oil didn't get to the correct temperature and maintain the correct temp. This is really the MOST important step when deep-frying. You must get the oil to 350 degrees and keep it at that temp throughout the cooking process. Also, this can happen by overcrowding the food into the pan. Do a set number at a time.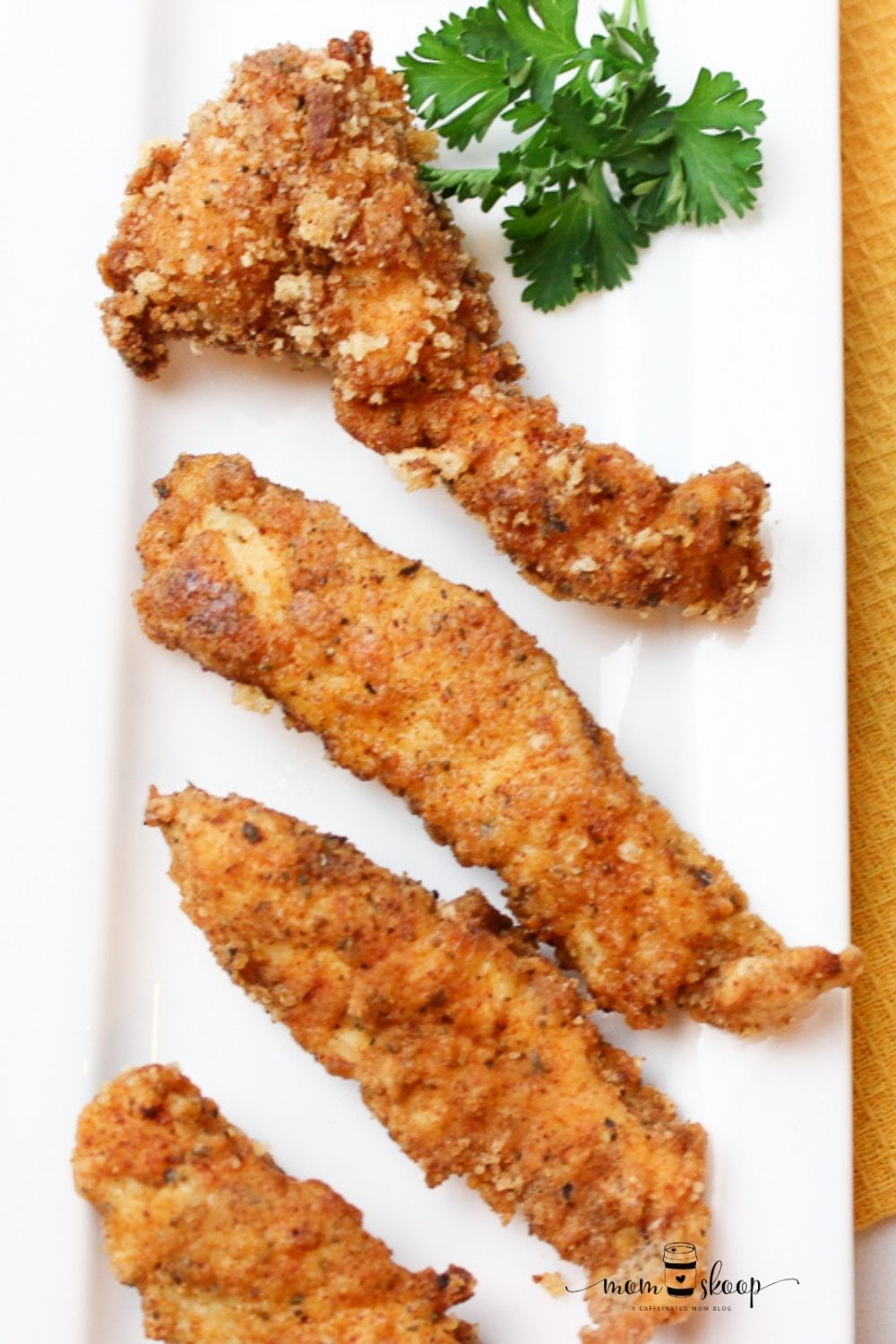 Related Recipes
Stuffed Chicken Breast with Stuffing - this is our #1 recipe.
Stuffed Chicken Breast with Asparagus
Ultimate Crack White Chicken Chili
Have you tried this recipe? Did your family like it? Dislike it? We'd love to hear your thoughts in the comment section or you can leave a star ⭐️⭐️⭐️⭐️⭐️. If you found a different flavor profile or a tip that you'd love to share, we'd also love to know that! You can also follow me on
Instagram,
Facebook
,
Pinterest
, and
Twitter
!
📖 Recipe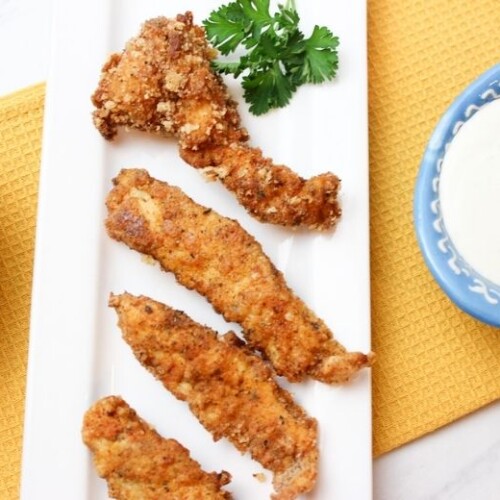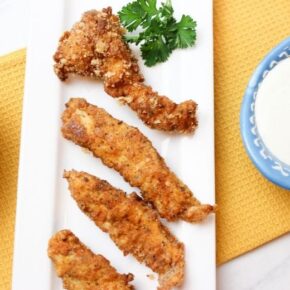 Easy to Make Homemade Chicken Tenders
Making your own Homemade Chicken Tenders is easier than you think and you can make them in a variety of ways such as spicy or crispy!
Ingredients
Peanut oil

4

chicken breasts or 12 tenderloins

Large egg

beaten

Breading

1 cup of either panko, bread crumbs, crushed potato chips, pork rinds

1

tbsp.

garlic powder

1

tbsp.

onion powder

Paprika - 1 tsp

1

teaspoon

kosher salt

1

teaspoon

pepper

½

c

flour

1

teaspoon

seasoning salt

1

teaspoon

chili powder

2

cups

buttermilk
Instructions
At least one hour or up to 8 hours before, marinate your chicken by adding the chicken and the buttermilk into a large bowl or a Ziploc bag and place them in the fridge.

When you are ready to fix the chicken, start preheating the oil. You will want to add enough oil in your skillet to cover the tenders. Heat the oil up to 350 degrees. This will take anywhere from 10 - 15 minutes to get it to the correct temp.

Next, prepare your dredge system. You will need three large bowls or dishes for the dipping system. You will add the beaten egg into one, the flour in another, and all of the seasonings and coating in another.

Remove your chicken from the fridge and trim the chicken as needed. If you need to cut the breast into strips, cut against the grain and remove all of the fat and tendons. If you are using already cut tenderloins, also remove the tendons and the fat.

Next, start the dredging system. Dip into the flour, the egg, then the breading.

Then add the chicken into the hot oil. I use tongs when I put the chicken into the oil.

You will cook the chicken for approximately 8 - 10 minutes OR until the chicken reaches 165 degrees.

Once your chicken is done, remove it from the oil and place it on paper towels on top of a wire rack and baking sheet. That way the excess oil can drain off.

When you've fried all of the chicken, serve up with your favorite dip!

Enjoy!
Nutrition
Serving:
1
g
Calories:
405
kcal
Carbohydrates:
8
g
Protein:
36
g
Fat:
24
g
Saturated Fat:
9
g
Polyunsaturated Fat:
12
g
Cholesterol:
126
mg
Sodium:
501
mg
Fiber:
1
g
Sugar:
2
g