SPONSORED - This post was created in partnership with the brand mentioned below.
*The links for the book and the charcuterie items are affiliate links. Please refer to our disclosure policy.
Charcuterie pronounced "shar COO-ter-ee", originated in France in the 15th century. Charcuterie is simply a variety of meats served cold. Meats often found on a charcuterie board are cured and dried meats. In addition to the meats, you will find a delicious mix of savory, sweet, and crunchy goodness served on either wooden blocks, sheet pans, or cutting boards.
One of the things I love about putting together a charcuterie board is that there are no rules! You can add whatever you and your family will like. Another thing I love about it is that there really needs to be no reason to put one together either! I put ours together for this post on a Friday night. I wasn't really in the mood for warmed up leftovers, so we put a charcuterie board together. The kids and my husband loved the change!
My youngest thought it was so cool to be able to pick out her own food! My oldest thought it was a fun way to try different things and my husband, well, was a bit hard to convince it was worthy of being our dinner for the night. He soon realized that it was and said we need to do it again.
Serving a charcuterie board is really pretty easy. You can make it as exquisite or as simple as you would like. A charcuterie board can be served for an event, holiday, or like we did, just because. It is also a terrific way to use up leftover meats, cheeses, and fruit! It is also a great way to get your kids involved! They can help you arrange the ingredients and help prep them. And at least for my kids, when they are involved, they are also more likely to want to eat it.
→ Make sure to check out more info about Sargento at the end of this post AND enter the giveaway!
Here are the basics of what you will need to assemble a charcuterie board:
Serving board – wooden block, cutting board, or sheet pan
Savory – any type of cured and dried meat such as salami, ham, and prosciutto
Sweet – fruits both fresh and dried, jams/jellies
Crunchy – nuts
Bread/Crackers – so you have something to put the ingredients on
We've put together a printable shopping list that you can take with you when you go shopping for the ingredients to make your charcuterie board!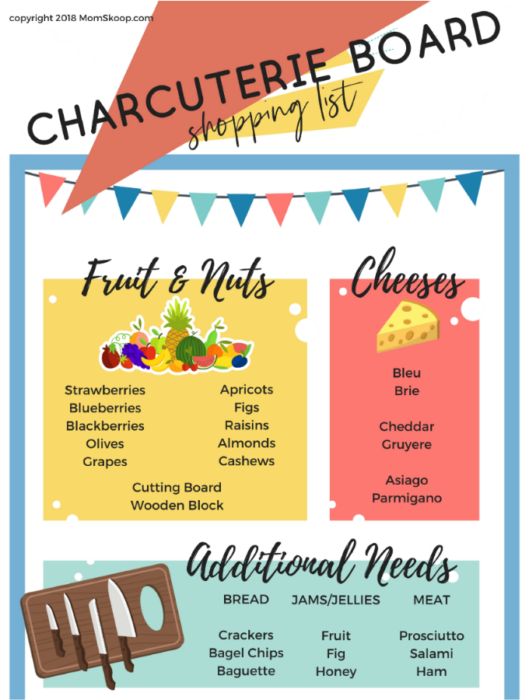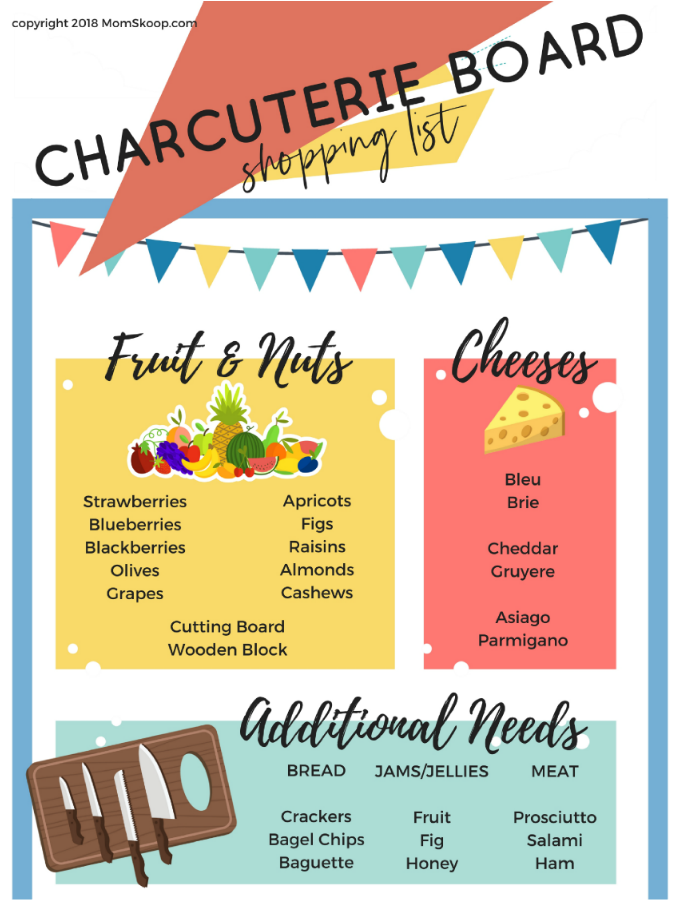 How to prepare a Charcuterie Board:
Preparing a charcuterie board is really easy! Once you decide on the base for the board, look inside your fridge for left overs (meats, cheeses, fruits). It's also a great time to go through the pantry and use up any leftover crackers, nuts, and dried fruit.
Next decide on what meats you are going to use. I bought prosciutto and salami for ours. You can use any type of dried and cured meat you prefer or have on hand.
Let's talk about the cheese next. You can use a variety of soft, semi hard, and spreadable for your charcuterie board. Soft cheese would be like brie and blue. Semi hard would be cheddar, gruyere, and gouda. Spreadable cheese can be any flavor that you prefer. They have several varieties at the store.
Fruits can be anything from strawberries to olives. For ours we used strawberries, blueberries, grapes, and olives. It's totally your choice. We also used dried apricots. That bought a totally different taste and texture to the fruits on our board. You can also use any jams/jellies that your family loves.
Nuts can be anything you prefer. We used almonds, however, you could use cashews, walnuts, or pecans.
The last component of an epic charcuterie board is the bread and crackers. I used French bread and crackers that we had in our pantry.
The key thing to remember about putting together a charcuterie board is that there are no rules!
More About Our Sponsor:
As you are thinking about the cheeses for your charcuterie board, let's talk about Sargento cheese for a moment. We've all seen the cheese in our stores, but do you happen to know how the company Sargento came to be?
Tom Faley, a 30 yr employee of Sargento, recently wrote a book titled, "Treated Like Family: How an Entrepreneur and His "Employee Family" Built Sargento, a Billion-Dollar Cheese Company ".
This book is about the founder Leonard Gentine and how he, with an entrepreneur spirt and his employee family, built Sargento into the billion-dollar cheese company it is today! The author not only shares his experience but shares the story about the Gentine family.
This book is really a must read for all. Even if you don't think you have an entrepreneur spirit, I really think you will enjoy this book!
At the age of nineteen, high school diploma in hand, Leonard Gentine knew two things: he wanted to own a family business that would pass from generation to generation, and he wanted to spend the rest of his life with Dolores Becker, a girl he'd met on a blind date.

For Leonard, life didn't prove that simple.

This biography, told from the viewpoint of four generations of the Gentine family, places the reader in Leonard's shoes as he advances from young man to old age and discovers life's foundational lessons. Along the way, he endures outstanding debts, disappointments, and a collection of small businesses, all with Dolores at his side. It's an inspirational story of perseverance, personal integrity, and a mind-set of always doing the right thing-as painful as that may be in the short term.

TREATED LIKE FAMILY details the development of Sargento-a nationally recognized cheese company and household name. At the same time, it's a timeless story that showcases the importance of the individual and how a family united in a single purpose within the right culture is unstoppable.

Tom Faley invites the reader into the lives of the Gentine family and the men and women they hired, deftly weaving a story grounded in over 180 interviews-the collective voices of the company's employees, retirees, and friends.

TREATED LIKE FAMILY offers a rare glimpse into the creative mind of an innovator and entrepreneur and underscores the rewards for all of us when we maintain our humanity toward one another: When one person motivates others to pull together, at times facing unspeakable odds, he is able not only to change their lives but to alter history.
More About Our Giveaway:
One (1) lucky MomSkoop reader will receive a copy of the book, "Treated Like Family" by Tom Faley ($ 27.00) AND a $25 Visa Gift Card so that you can pick up your own favorite types of Sargento cheese to use on your charcuterie board! The book was provided for the giveaway. MomSkoop is providing the gift card.
The giveaway ends on May 9 at 11:59 pm. This giveaway is open to all residents of the US who are ages 18 and over at the time of entering the giveaway. We are not responsible if you do not receive your winner's notification and you do not get it because you used a fake email address. Once the winner is notified, you will have 48 hours to claim your prize. If you do not, another winner will be chosen.
Good Luck!
$25 Visa Gift Card & "Treated Like Family" book ($47 value)