Post contains Amazon Affiliate links. As an Amazon Associate I earn from qualifying purchases. Please refer to our disclosure policy for more information.
If you are looking to make a simple Charcuterie Board that is piled high with fruit, breads, nuts, cheeses, and meats, we have some easy tips that will help you put together one in no time.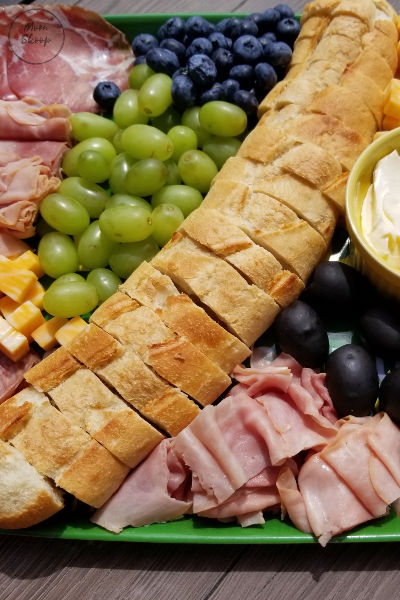 Charcuterie pronounced "shar COO-ter-ee", originated in France in the 15th century.
Charcuterie is simply a variety of meats served cold. Meats often found on a charcuterie board are cured and dried meats. In addition to the meats, you will find a delicious mix of savory, sweet, and crunchy goodness served on either a wooden block, sheet pans, or cutting boards.
One of the things I love about putting together a charcuterie board is that there are no rules! You can add whatever you and your family will like.
Another thing I love about it is that there really needs to be no reason to put one together either! I put ours together for this post on a Friday night. I wasn't really in the mood for warmed up leftovers, so we put a charcuterie board together. The kids and my husband loved the change!
Jump to: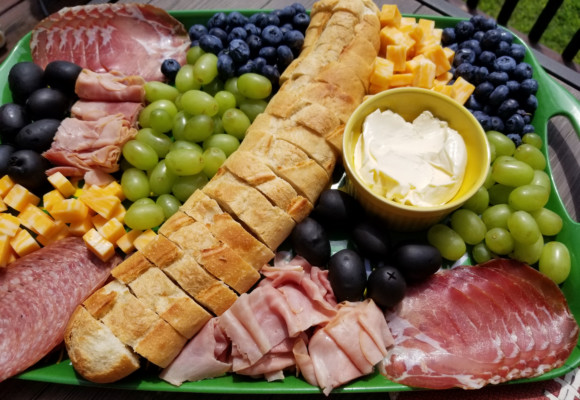 How to Serve
Serving a charcuterie board is really pretty easy. You can make it as exquisite or as simple as you would like. A charcuterie board can be served for an event, holiday, or like we did, just because.
You can use a holiday themed tray, a nice cutting board, or simply a large platter. Remember the key is that there are no rules!
What Do You Put on It?
Since there are no right or wrong ways to do up a charcuterie tray, just keep these basics in mind.
Savory – any type of cured and dried meat such as salami, ham, and prosciutto
Sweet – fruits both fresh and dried, jams/jellies
Crunchy – nuts
Bread/Crackers – so you have something to put the ingredients on
What Type of Bread is Used?
Usually, a nice French baguette is perfect. You can also use Crostini or crackers. You can also add a variety of all three.
What Type of Occasions Do You Serve One at?
You can serve a charcuterie tray any time you would like. We've had them during the Summer as a light dinner, you can serve them at a party as an appetizer. You can also create a
Charcuterie Candy Tray
!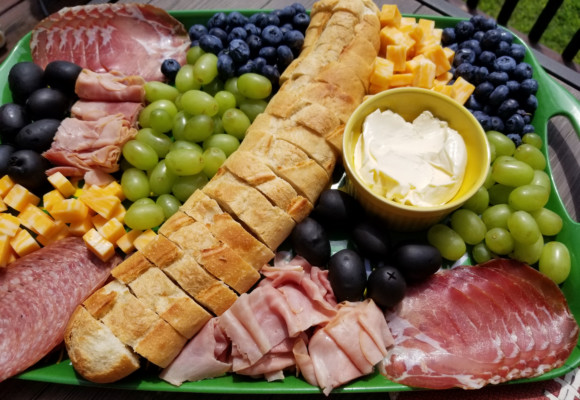 How Do You Set One Up?
Preparing a charcuterie board is really easy! Once you decide on the base for the board, look inside your fridge for leftovers (meats, cheeses, jams, dips, fruits). It's also a great time to go through the pantry and use up any leftover crackers, nuts, and dried fruit.
Next decide on what meats you are going to use. You may be asking yourself what meats are good for charcuterie? Really any type of preserved meats like prosciutto and jam on. Salami and ham are also good choices. Bottom line is you can use any type of dried and cured meat you prefer or have on hand.
Let's talk about the cheese next. You can use a variety of soft, semi hard, and spreadable for your charcuterie board. Soft cheese would be like brie and blue. Semi hard would-be cheddar, gruyere, and gouda. Spreadable cheese can be any flavor that you prefer. They have several varieties at the store.
Fruits can be anything from strawberries to olives. For ours we used strawberries, blueberries, grapes, and olives. It's totally your choice. We also used dried apricots. That bought a totally different taste and texture to the fruits on our board. You can also use any jams/jellies that your family loves.
If you are using any type of jams or dips, decide what small bowls and cups you are using and fill those up and set them on the board.
Nuts can be anything you prefer. We used almonds; however, you could use cashews, walnuts, or pecans.
The last component of an epic charcuterie board is the bread and crackers. I used French bread and crackers that we had in our pantry.
The key thing to remember about putting together a charcuterie board is that there are no rules!
We've put together a printable shopping list that you can take with you when you go shopping for the ingredients to make your charcuterie board!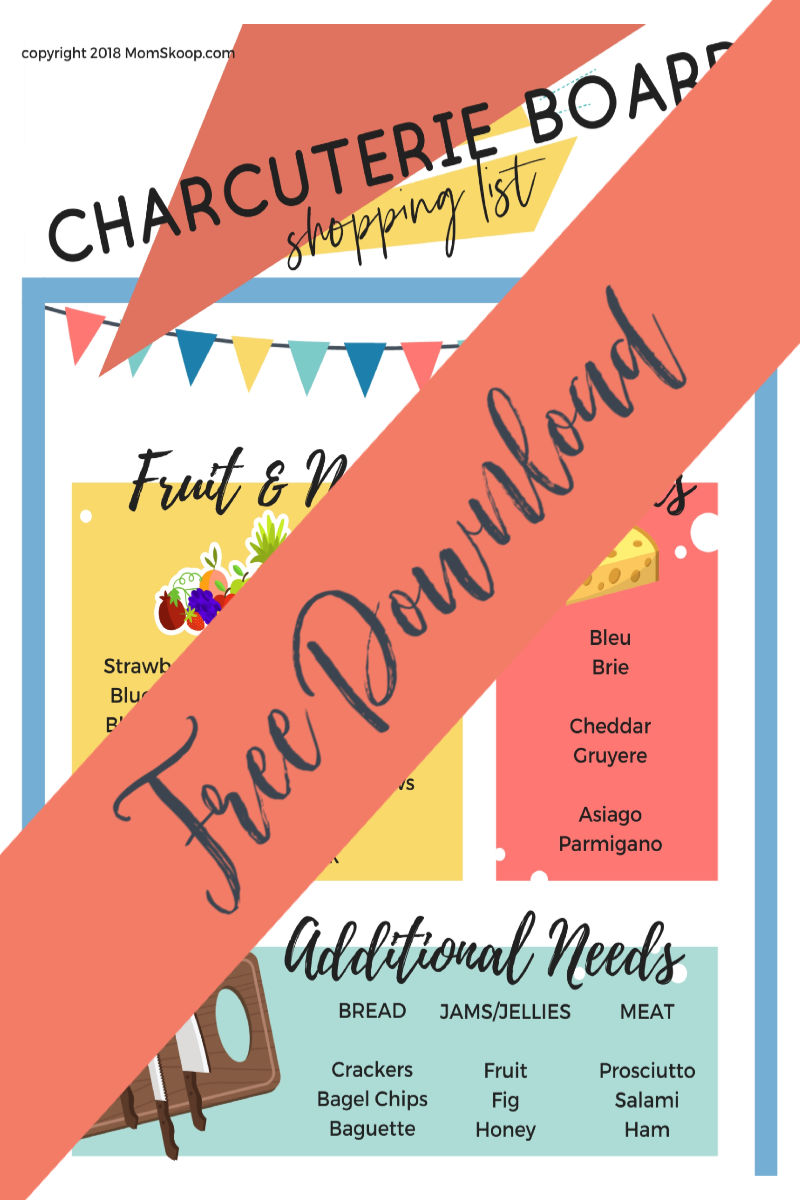 Click to get our Free Charcuterie Board Shopping List
*This was originally a sponsored post in May 2018.