Post contains affiliate links. Purchases made through links provide us with a small commission. As an Amazon Associate I earn from qualifying purchases. Please refer to our disclosure policy for more information.
Makeup expiration isn't normally something you think about. However, since it's almost the end of 2018 and we will all be in a mad dash to re-organize in the new year, we definitely need to think about all of that makeup we have in our life.
We all have those cosmetics that we just don't want to let go. For me it's favorite lip gloss that is just so perfect and they don't make it anymore! Unfortunately, holding on to makeup too long can be gross and even a health issue because makeup does have an expiration date.
Cosmetics expire. Left too long (even regularly used) they can actually grow harmful bacteria that cause acne, eye infections, and worse. Read on to see how you can keep your face healthy with our Free Printable Cosmetics Expiration Chart.
Even if you know that your products expire, who can keep track? When did you pick up that lipstick…6 months ago? A year? It's not easy to remember, especially if you have a large collection on your vanity.
If you've forgotten how old something is, there are a few ways you can tell if your makeup or beauty product has expired:
PAO
Did you know that some beauty products now have a PAO (Period After Opening) date on them? Look on the bottle or container of the makeup or beauty product you recently bought. Is there a symbol that says something like "6M"? If so, that is telling you that your product should be good for up to six months after you open it.
For example, my bottle of Glow Tonic from Pixi Beauty, as a PAO of 12 months on it. So I should be able to use it for up to 12 months after I open it, without any issue.
SMELL
Some products – such as mascara, cream mascara, and lipstick – develop an odd, chemical smell after expiration. If it doesn't smell the same as when you bought it, it's probably time to replace it.
LOOK
Pay attention to the surface of the product. Has the color changed? The consistency? A common example of this is a pressed powder compact. Have you noticed that darker, shiny surface that shows up after you've used it a long time? That's oil from your face and it's a breeding ground for bacteria and can cause acne.
CLEANING
How often do you clean your makeup brushes? They can grow bacteria very easily if not properly cared for.
BE PROACTIVE
The longevity of your makeup is also dependent on how well you take care of it. Check out these tips on how to best care for your makeup and applicators:
TIPS ON TAKING CARE OF YOUR COSMETICS
Now you know to keep track of expiration dates. Great. What next? How do you keep track of all the items at one time? I know you are thinking, "Great another worthless chart that I won't use" or "How does this help me keep track of the expiration"?
Our chart works because once you open the item, look for the PAO or the reference on our chart, count ahead, whether it be 6 or 12 months, and write THAT date in the space on the chart. Then once a month, double check your chart to see what needs replaced.
Download our FREE PRINTABLE COSMETICS EXPIRATION CHART which will tell you the expiration for your products AND help you keep track with a "replace on" space. Simply write down the end date when you buy a new item.
FREE PRINTABLE COSMETICS EXPIRATION CHART – GRAB YOURS!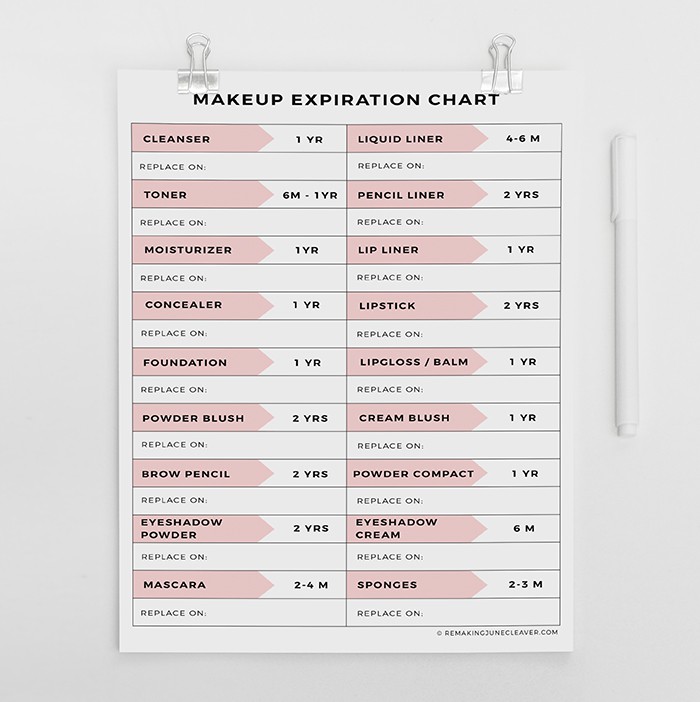 DOWNLOAD THE PRINTABLE MAKEUP CHART
http://bit.ly/makeupchart