Post contains affiliate links. Purchases made through links provide us with a small commission. As an Amazon Associate I earn from qualifying purchases. Please refer to our disclosure policy for more information.
We say "Thank You" constantly. You say it when someone opens the door for you. You mumble it when someone passes you something from across the table. Sometimes you probably say it without even realizing it because it's become such a common phrase. Wouldn't it be nice to have an entire month of REALLY saying Thank You? That's what Thank-o-Rama is all about - giving heartfelt thanks to those around you. Family, friends, or even someone you see at the store or school. We can't thank everyone, every day - but we sure can try.
This month I'm partnering with Disney-Hyperion to celebrate Thank-o-Rama! for the release of The Thank You Book.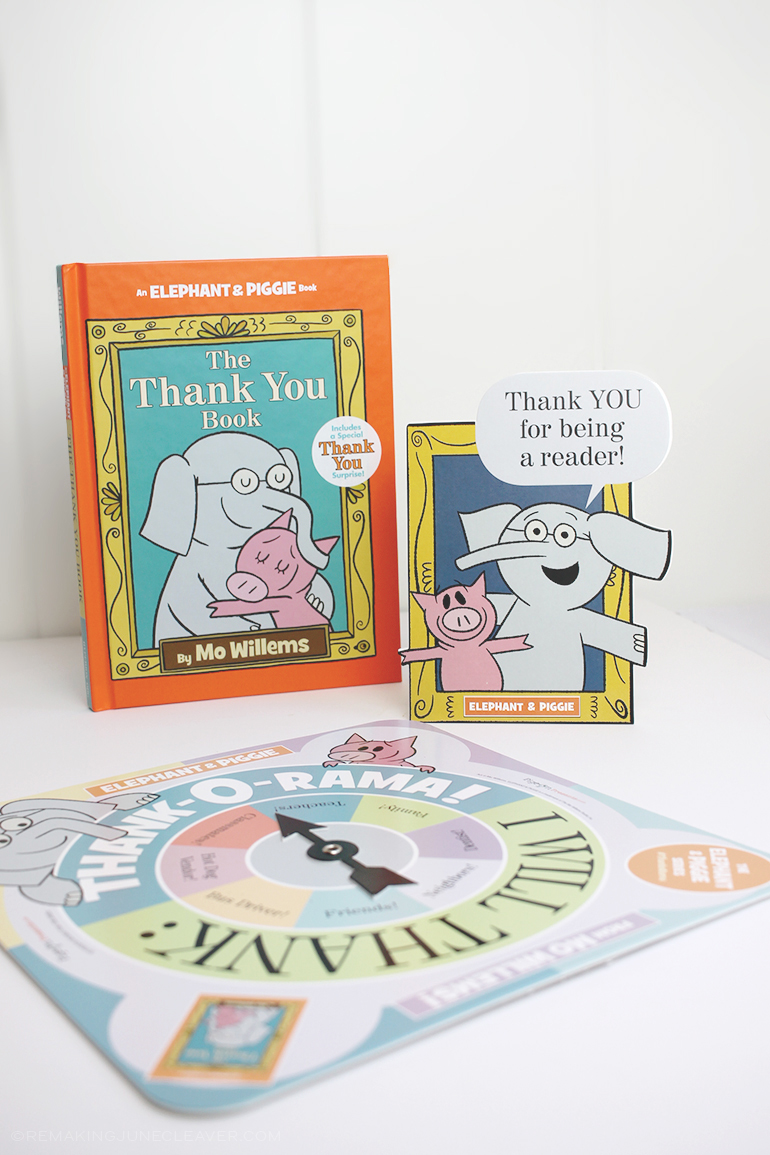 The Thank You Book tells another delightful story of the adorable duo: Elephant & Piggie. It's the very LAST story for these two pals - but don't be sad, they're going to make the very best of it! Piggie realizes he has so much to be thankful for - and he needs to thank EVERYONE. Elephant is happy to help, but he's positive that Piggie will forget someone. As Piggie takes time to thank everyone - from his friends to neighborhood workers - will he remember one of the most important thank you's of all? The surprise ending is sure to bring a smile to your face.
---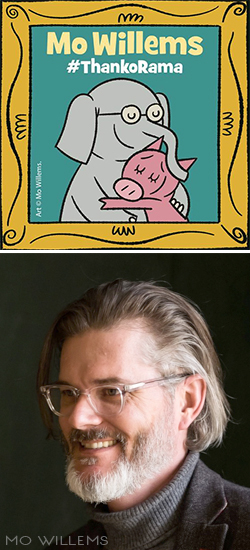 Mo Willems (www.pigeonpresents.com), a number one New York Times best-selling author and illustrator, has been awarded a Caldecott Honor on three occasions, for Don't Let the Pigeon Drive the Bus!, Knuffle Bunny: A Cautionary Tale, and Knuffle Bunny Too: A Case of Mistaken Identity. The celebrated Elephant & Piggie early-reader series has been awarded the Theodor Seuss Geisel Medal on two occasions (for There Is a Bird on Your Head! and Are You Ready to Play Outside?) as well as garnering five Geisel Honors (for We Are in a Book!, I Broke My Trunk!, Let's Go for a Drive!, A Big Guy Took My Ball! and Waiting Is Not Easy!).
Visit ThankoRama.com
Follow @DisneyHyperion on Twitter
Follow @DisneyBooks on Instagram
Follow @The_Pigeon on Twitter
#Thankorama
---
WHO'S ON YOUR THANK-O-RAMA LIST?
So how many THANK YOUs do YOU want to hand out? Five...fifty...five hundred? There are so many - luckily, your thank you supply is UNLIMITED and doesn't cost a thing!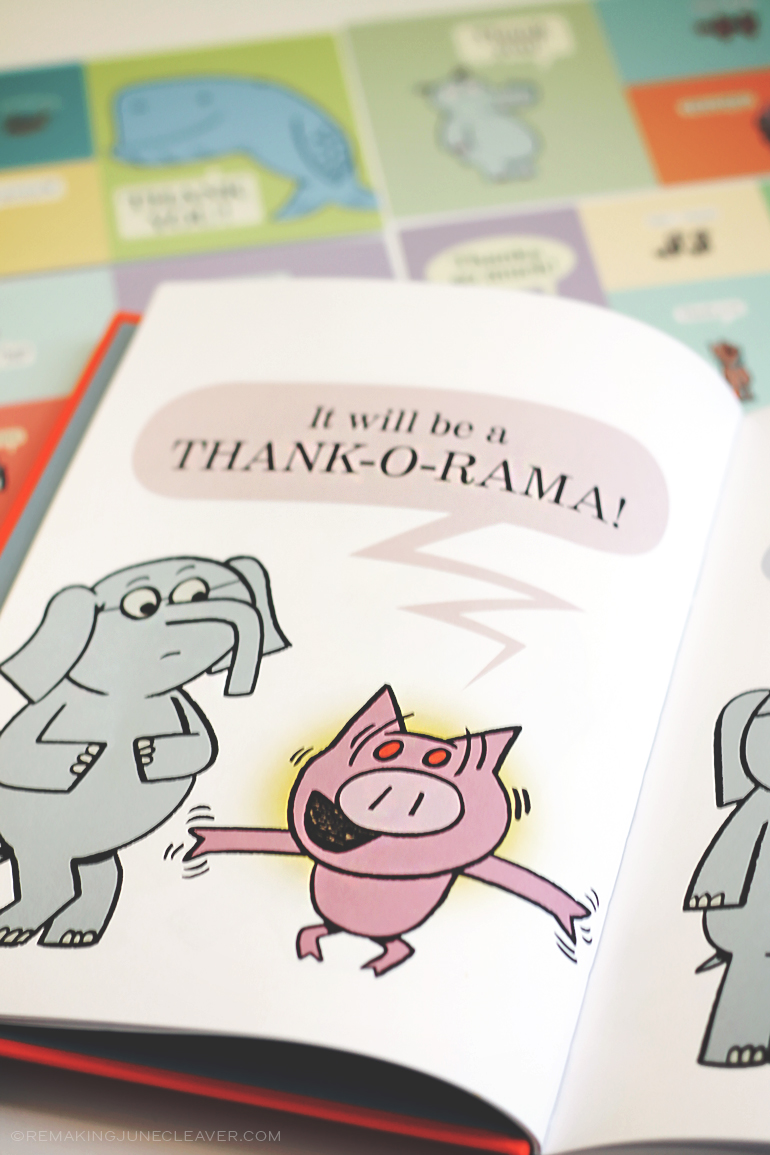 When we opened our Thank-o-Rama package, Little E was so excited. He saw The Thank You Book and shouted, "I LOVE that book! We read it at school! Is that one MINE?!" He didn't even wait, plopping down on the floor to begin reading to me. Next we filled out a Thank You bubble. I asked Little E who he'd like to thank. "But there are so many!" he said. In the end, he chose his best buddies that he plays with every day. I can definitely understand that Thank You.
You can download your own Thank You speech bubbles : Download the Pink Speech Bubble or Download the Grey Speech Bubble Then, snap a photo and share on social media with the hashtag #Thankorama . You can also visit Thankorama.com to learn how to draw Piggie, download activity sheets, and more!
With all the Thank-o-Rama excitement, don't forget to also thank yourself. Remind kids that they are awesome and it's great to be thankful for all the things you're capable of - which is anything you set your mind to!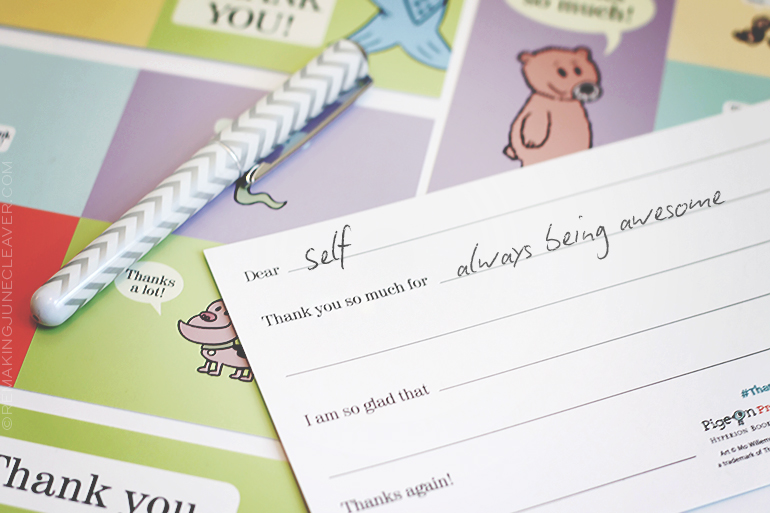 Over the summer I'll be bringing you more great Mo Willems content and activities - so stay tuned. But, for now.... there's also something else to be thankful for: GIVEAWAYS!