Post contains Amazon Affiliate links. As an Amazon Associate I earn from qualifying purchases. Please refer to our disclosure policy for more information.
SPONSORED - This post was created in partnership with the brand mentioned below.
In celebration of #AvatarAdversaries, I've created this fun Avatar the Last Airbender Fire and Ice Tic-Tac-Toe Game in partnership with @Nickelodeon! The Jasmine Dragon Tea House Bubble Milk Tea Mochi in picture from @OfficialFYE https://bit.ly/3yIwvdk
This post is sponsored by Nickelodeon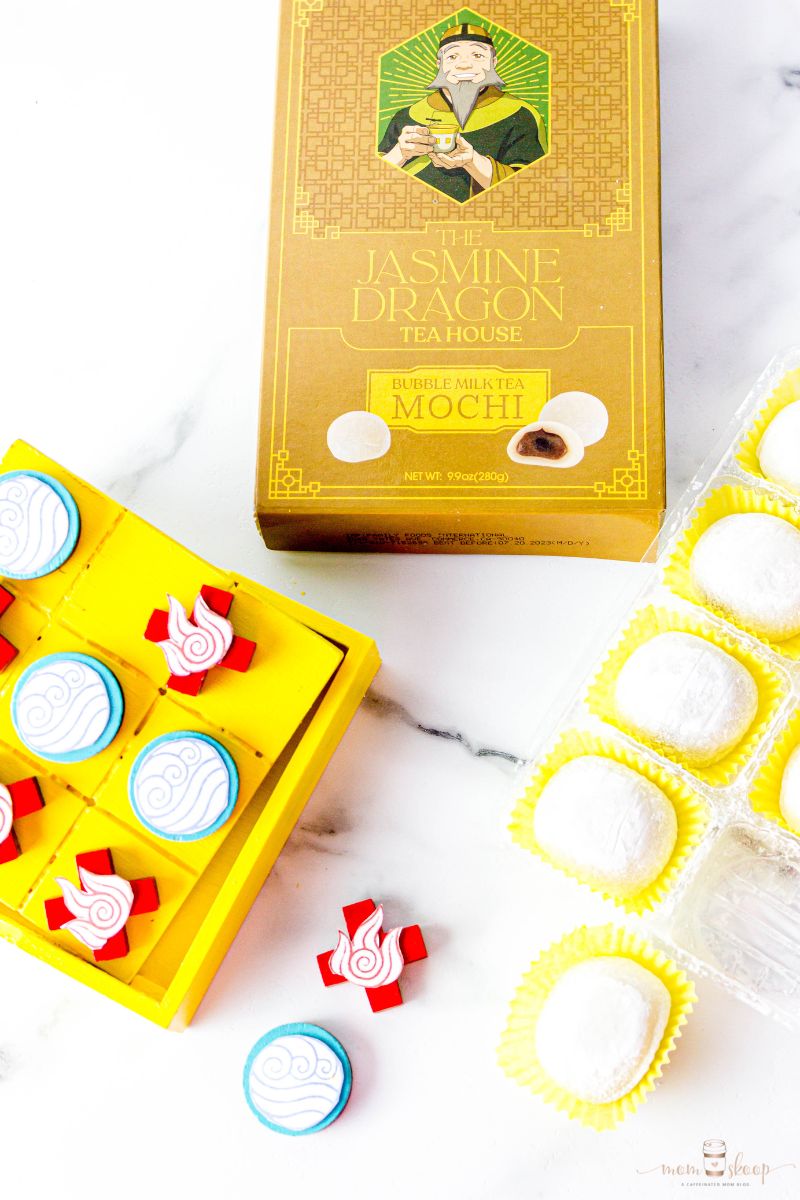 Avatar the Last Airbender Tic-Tac-Toe Game
When Nickelodeon asked me to think about Avatar adversaries, such as Good vs Evil, Water vs Fire, I thought there would be no better game to create then a tic-tac-toe game.
Tic-tac-toe is a game of chance and skill, just like the adversaries in the show.
What are the Symbols?
The symbols are for the Four Bending Nations and the elements that they bend. They are called the Fire Nation, Air Nation, Earth Nation, and Water Nation.
Fire Nation is led by the Fire Lord. Most of the firebenders live there as well. The people who live there are referred to as "Fire Nationals". It is also home to one of the four nations and the five sovereign states.
The Air Nomads practice the discipline of airbending and are wanderers.
The Water Nation are peaceful people. Think of Yin and Yang. They also were a part of the Hundred Year War against the Fire Nation. Hence Water vs. Fire.
The Earth Nation, also referred to as Mortal World or the Human Realm and is divided into four nations.
BoxLunch and Avatar the Last Airbender
If you are familiar with BoxLunch and FYE then you know they always have some stellar merch. Whether it's clothing, accessories, glasses, or games, they definitely have the airbender fandom covered.
Supplies Needed:
You will only need a few things to complete this fun DIY.
Yellow, blue, and red paint
Glue dots, glue, or double-stick tape
Cardstock
Scissors
Printable element symbols provided by Nickelodeon. Just click on the image to print it.
Step by Step Directions
Step 1: Prep your wood surfaces.
Step 2: Paint all of the wood.
Step 3: Attach the elements to the play pieces.
Step 4: Play!
Avatar the Last Airbender Tic-Tac-Toe Game
Equipment
Glue dots, glue, or double-stick tape

Cardstock

- Scissors
Ingredients
Wooden tic-tac-toe game board

Yellow, blue, and red paint

Printable Elements
Instructions
Prep your wood surfaces. You can use light sandpaper as well to work the surfaces up a bit.

Paint all of the pieces. Paint the board and the holder yellow. Paint the circles blue to represent water and paint the "x"s red. Then let them dry.

Print off the printable elements symbols.

Attach an element to each playing piece (the Os and Xs).