Ready for a summer adventure? Check out Kelleys Island! We've got a list of exciting things to do on Kelleys Island to make your trip unforgettable. Get ready to explore and have some fun!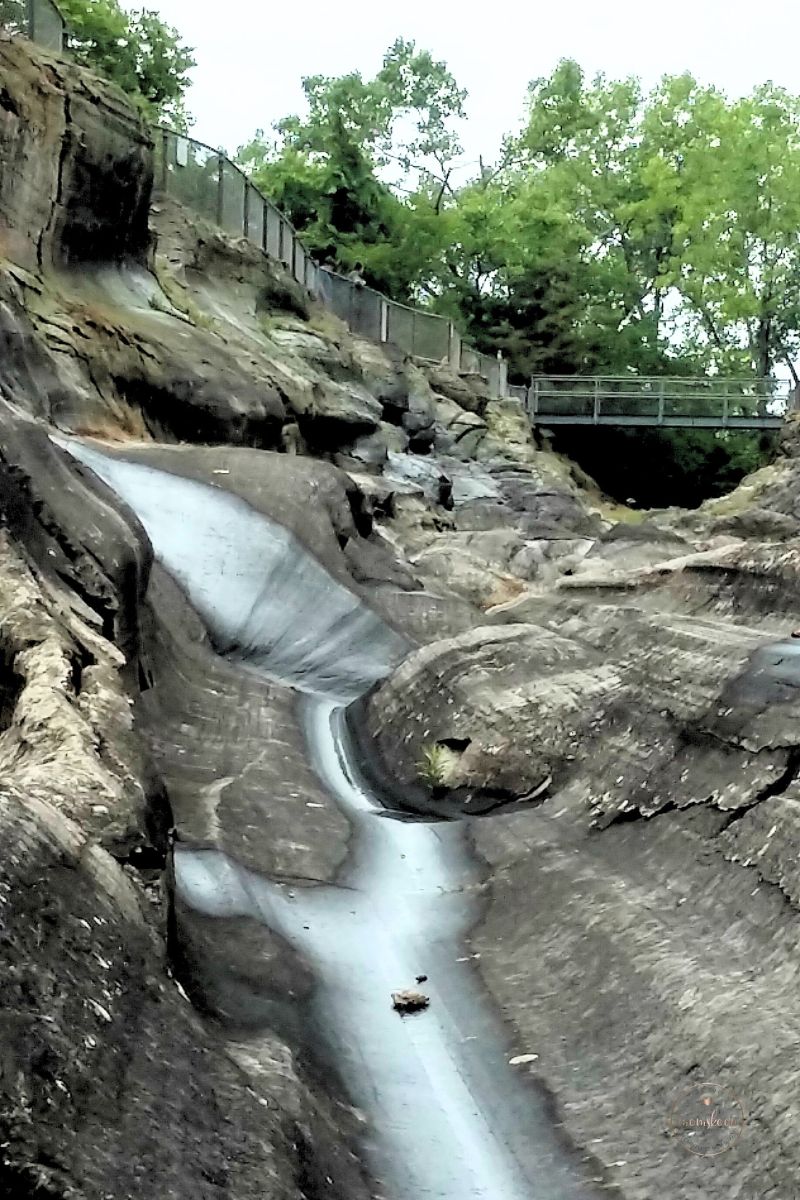 One of the best parts about visiting the Lake Erie Islands is that you won't need a passport and since it's surrounded by Lake Erie, it's unsalted.
I know for some, Ohio isn't always a top destination when you think about beaches and lakes, however, Lake Erie and the small towns and islands in and around the lake are hidden gems just waiting to be discovered.
And sometimes the laid back, out of the way places, are the best places to visit. And that's why I'm sharing why you should visit Kelleys Island. It's not as busy as Put-in-Bay, however, I think once you'll visit, you'll discover like we did during our visit, that it's really one of the islands that you need to add to your bucket list.
Jump to:
Why You MUST Visit:
1. The Jet Express – a great ferry to take to the island.
2. Inscription Rock Petroglyphs
3. Kelleys Island State Park – beach anyone?
4. Rent a Bicycle or Golf Cart to tour the island!
5. Shopping and Dining
6. Glacial Grooves Geological Preserve
7. Scheele Preserve
8. Fishing and Fishing Charters
9. Kelleys Mansion
10. Bird Watching
Now, let's talk about these reasons you must visit.
How to Get There
You can get to the island either by boat or airplane.
If you want to take your car over, you can use the Kelley Island Ferry.
If you don't mind not having your car, you can take the Jet Express and then rent a golf cart for the day.
Taking the Jet Express was such a fun experience for us. Once you load the ferry at their Sandusky lot, you will make a stop at Cedar Point, then you will head over to Kelleys Island. It is about a 20 min trip. It's honestly a great way to relax and get in the island state of mind!
If you are flying in, then make sure to check out the airport and FBO for the island.
Attractions
There are so many unique things to see on the island. If you grew up in Ohio, then you learned about the Glacial Grooves, however, if you didn't, then this is one of the most important reasons that you need to visit.
If you have ever wanted to see a petroglyph up close, now is your chance! Inscription Rock is located on the south side of the island. The actual age of the inscriptions isn't known.
The Lake Erie region was home to many Native Americans, so researchers believe that these inscriptions are the work of the tribes that were in the area about 1,000 yrs ago.
Many of the inscriptions are faded due to the weather, however, you really must check out this rock! It's hard to imagine they carved these markings so long ago without the tools we use today.
This state park takes up a large majority of the northern third part of the island! There are hiking trails, ruins of lime kilns (these are really cool), a quarry, campground and a sandy beach!
There are bathroom facilities here, so you can get dressed before/after your time at the beach.
Did I mention that you can even rent a yurt to stay in?
Glacial Grooves Geological Preserve
The grooves are on the north side of the island (actually very close to the state park).
These grooves are the largest and most accessible grooves in the world!! The grooves are 400 feet long, 35 feet wide and in spots are 10 feet deep!
When you stand there and look at this breathtaking site, you must remind yourself that ice carved these! You must see these glacial grooves! You will never see anything like it again!
This is a beautiful area to just walk around and unplug! It is also a fabulous place to watch birds!
There are numerous fishing spots and fishing charters! For the fisherman in your life, they will love this opportunity!
This mansion is currently being repaired. I can only imagine what it looked like in it's glory and what it will look like again!
Another one of the unique things about Kelleys Island is that you can check out a communal oven. The oven was constructed in a beehive pattern.
Back in the day, these ovens were kept outside of the house because it would have been a fire hazard.
They believe the oven was built around 1875,
The Abandoned Quarry
There is an old quarry that you can explore on the island as well by taking the North Shore Loop Trail through the park. It's best though to just look at it from a distance as the ruins are crumbling apart and are dangerous to go through.
The North Pond State Nature Preserve
This is a wetland that has a channel that leads to Lake Erie. What's unique about this wetland is that it's one of a handful of wetlands that are natural that connect directly to Lake Erie.
Bring your beach gear and enjoy the day at the beach! You can choose from the beach at the State Park, Scheele Preserve, or Rocky Beach.
When we were there, we spent quite a bit of time at the beach at the State Park. It's really nice to be able to go to a beach that is shark free and unsalted!
Lodging
You can also camp at the state park.
I can't give you any info about these locations. We didn't stay at any of these because we stayed on the mainland during this trip.
Shopping and Dining
There are several small little shops and restaurants on the island. You will find a treasure that you will simply have to buy! We had lunch at Bag the Moon. It was very tasty! I loved the fish!
Visit the Wineries and Brewery
Did you know that there are both wineries and a brewery on the island? You will find the Crooked Tree Vineyard, the Kelleys Island Brewery, and Kelleys Island Wine Co.
How to Get Around
Rent a bike or golf cart
We chose to rent a golf cart since we had our beach stuff. As soon as you get off the ferry, the rental place is right there.
To plan your bucket list adventure at Kelleys Island, head over to Lake Erie Shores & Islands! They have a site that is full of wonderful information!!