Leftover Corned Beef Breakfast Sandwich
Post contains Amazon Affiliate links. As an Amazon Associate I earn from qualifying purchases. Please refer to our disclosure policy for more information.
Our Leftover Corned Beef Breakfast Sandwich is the perfect way to use leftover corned beef. Just add hash browns, peppers, and cheese and its perfection! You can also enjoy this Corned Beef Sandwich for lunch or dinner! There is never a wrong time to enjoy corned beef leftovers. Corned beef breakfast sliders with Irish cheese melting off the side is truly a morning breakfast game changer!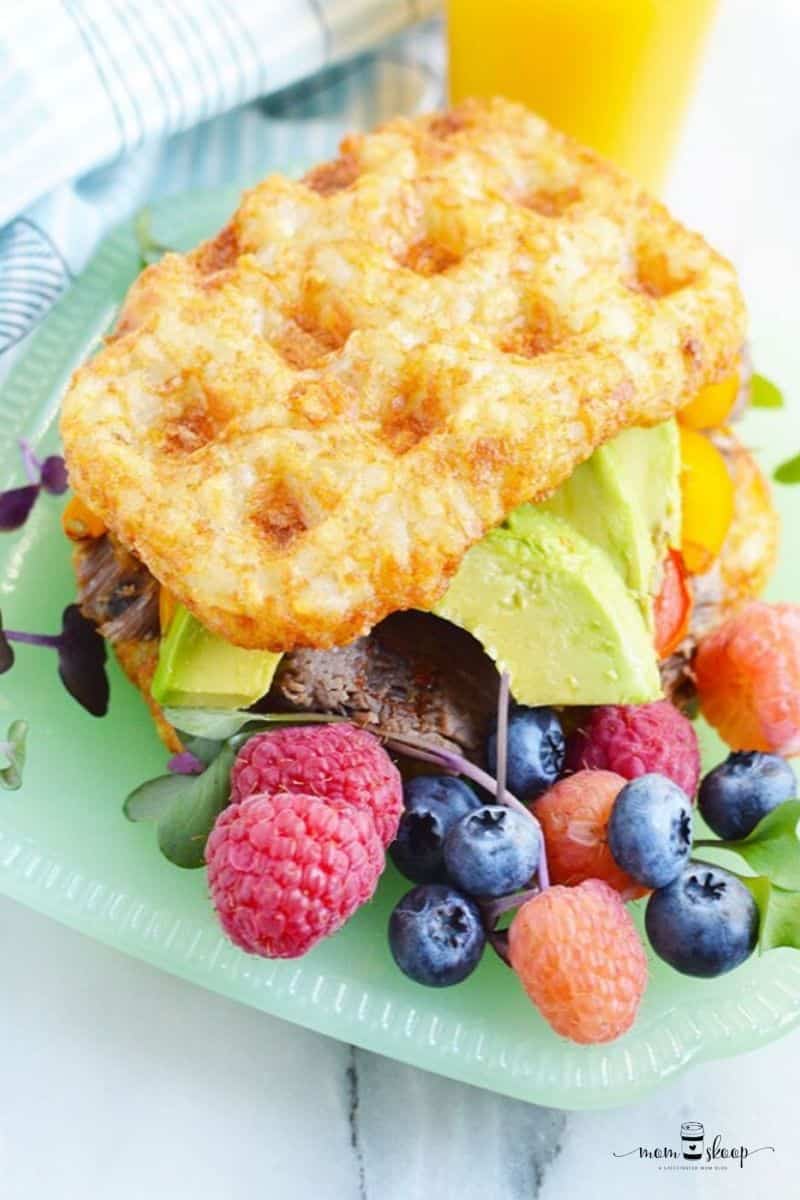 How to Make Leftover Corned Beef Sandwiches for Breakfast
These delectable beef breakfast sandwiches are not only great for the days after St. Patrick's Day, but they are also great at any other time of the year. 
Beef breakfast ideas shouldn't take a lot of thought. If you are wanting to incorporate ways to use leftover beef in your breakfast sandwiches, take a look in your refrigerator and see what proteins you have left over from the week.  Then decide what toppings go the best with the leftover protein and work from there. Beef breakfast recipes don't have to be over complicated.
There are countless ways to make mouthwatering sandwiches from leftover ham, ground beef, steak, and pork that your family will devour! If you are looking for leftover beef recipes, I have a few that I think you might enjoy. Like my Breakfast Frittata and my Quiche.
Before you get started on this delicious leftover recipe, here are a few tips and suggestions.
Expert Tips, Ingredient List and Suggestions for Recipe Success
Hash browns – this will be the base for your sandwich. You can use bread or muffins as well. 
Leftover corned beef – you can even use other types of leftover meat such as ham. 
What Condiment Goes with Corned Beef?
Mustard. This basic condiment goes the best with corned beef.
How Do you Store Leftovers?
You can store it in airtight containers or you can wrap it in plastic wrap and then wrap tightly with aluminum foil.
If I Want to Add Cheese, What Type Do I Add?  
When looking for Irish cheese, make sure to look at either Kerry Gold's Aged White Cheddar or their Red Cheddar Cheese.
How Long is Leftover Corned Beef Good For?
It's good for up to 4 days. 
What is the Difference Between a Reuben and a Corned Beef Sandwich?
They are both the same in essence because they come from the same cut of beef, however, they are also different because afterwards the corned beef is boiled, and the pastrami is seasoned and not boiled.
What to Serve with Corned Beef Sandwiches?
Potatoes and eggs would make fantastic side dishes!
Step by Step Directions
These delicious sandwiches are easier to make than you think! I have included a couple of in-process photos below. You can get the full printable recipe card that includes instructions and ingredients needed below. 
Step 1: Preheat your waffle iron.
Step 2: Thaw your hash browns.
Step 3: Cook the hash browns.
Step 4: While the hash browns are cooking, prepare the peppers, avocado, and the corned beef.
Step 5: Assemble
Step 6: Enjoy!
Related Posts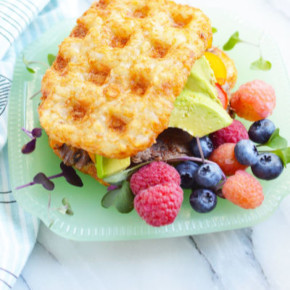 Leftover Corned Beef Breakfast Sandwiches
Our Corned Beef Breakfast sandwiches are the perfect way to use leftover corned beef. Just add hash browns, peppers, and cheese and its perfection!
Ingredients
4

classic hash browns

A few medium thick-sliced or shredded pieces of leftover corned beef

Ripe avocado

Grilled peppers

Cheese

Microgreens

The toppings are all optional and there are endless others you could sub in to fit what you have on hand.
Instructions
Start by turning your waffle iron on to medium-high heat. This takes a couple of minutes so it's good to start on that first.

Then ensure the hash browns are thawed, I lay them flat on a paper towel and microwave them for 2 minutes. They should easily thaw during this time but will still be cold. 

I've found with a few different microwaves that heating any longer will cause them to stick to the paper towels and start to fall apart when transferring to the waffle iron. 

(Putting frozen hash browns into the waffle iron will likely result in a much longer process where the outsides might start to burn a little while the inside tries to thaw). 

When the iron is hot and the hash browns are ready, lay them in carefully and press the lid down a little bit so they will settle into the waffle wells and crisp up. 

While the hash browns are starting to crisp, slice or shred the corned beef, slice the peppers and prep the avocado.  

We like to leave enough room to warm the meat and lightly grill the peppers.  

I cook the hash browns for about 8-10 minutes (the timer will beep a few times and I tend to ignore it the first two times, then check on them), in our iron they do not need to be flipped, but check on yours the first time to make sure they are set and do not need to be adjusted. 

We enjoy the hash browns crispy, but also find for the structural integrity of the sandwich that they need to be quite crisp to hold up while being enjoyed as a sandwich.  

Once the hash browns are crisp, lay a bit of cheese on both sides (this will help hold everything together), then layer in the meat and vegetables.  

Serve with the berries and enjoy right away.