Post contains Amazon affiliate links.As an Amazon Associate I earn from qualifying purchases. Please refer to our disclosure policy for more information.
Puff Pastry Quiche is a simple and scrumptious quiche that is full of ham, cheese, eggs, and broccoli. The best trick of this recipe is the puff pastry!
I don't know about you, but I adore brunch.
The only problem with brunch is that depending on what you are making, there is a bit of extra time involved. I mean, who wants to spend hours prepping brunch?
That is one of the reasons I absolutely love working with puff pastry! There's no prep, ingredients to get together, and no wait. Just unwrap, put into the pan or dish you are using and you are done!
Before you begin making this Egg quiche, here are a few helpful tips:
DO YOU HAVE TO PRE-BAKE THE PASTRY?
No, not for quiche. You can, however, if you prefer. To blind-bake the pastry, place into the baking dish, lay foil or parchment paper over the crust and add dry beans or rice to the top of the foil. Bake at 375 for approximately 10 minutes. Then continue on with your recipe.
WHAT INGREDIENTS DO I NEED to make puff pastry quiche?
Puff Pastry
Chopped ham pieces
Comte and Gruyere cheese
Raw broccoli
Eggs
Buttermilk
WHAT OTHER TYPES OF RECIPES CAN I MAKE FOR BRUNCH?
Since brunch is more of a sit down and savor the food type of meal, savory and sweet is the way to go! To cover the sweets, you can put out recipes like breads, Danishes, scones, and muffins. For savory dishes, foods like casseroles, frittatas, and hash. Another fun idea for brunch are biscuits and homemade butter.
HOW TO CREATE A SUMMER TRAY
One of my favorite ways of serving up brunch is on trays. In the Summer, we eat outside a lot in our gazebo so creating fun Summer Trays full of food is always a must. Get the kids involved in helping to create these trays. Check out stores, yard sales, garage sales, and thrift stores for unique trays to make your setting engaging! In addition to the serving platter, add cute napkins, plates, silverware and fun glasses.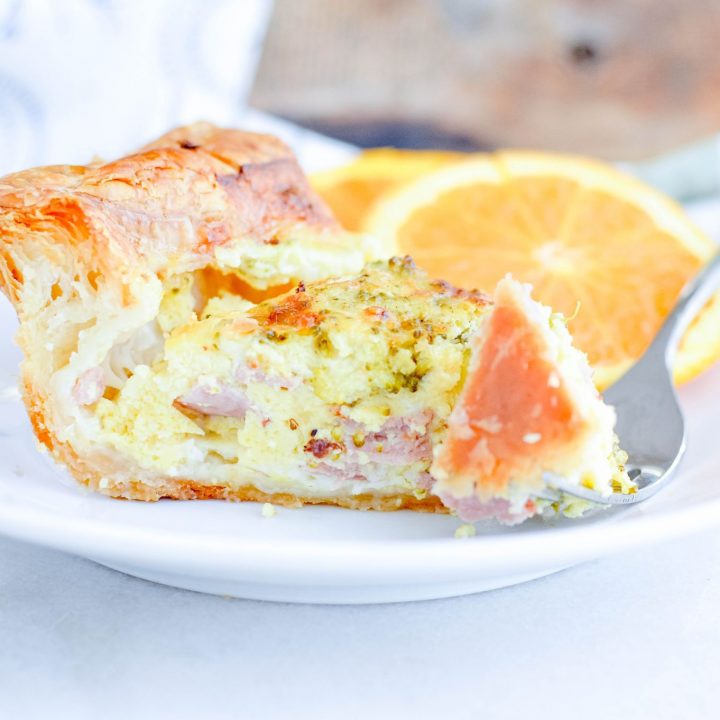 Puff Pastry Quiche Recipe - Summer Tray Series
Yield: 6 to 8

Prep Time: 5 minutes

Cook Time: 45 minutes

Additional Time: 20 minutes

Total Time: 1 hour 10 minutes

Puff Pastry Quiche is a simple and scrumptious quiche that is full of ham, cheese, eggs, and broccoli. The best trick of this recipe is the puff pastry!
Ingredients
1 premade puff pastry sheet, we really like the refrigerated ones vs frozen, but either should
work nicely or you can use your favorite recipe.
⅔ cup of finely chopped raw broccoli
1.5 cups of small chopped ham pieces
Salt and pepper to preference
1.5 cups of a mix of your favorite Swiss cheeses, we used Comte and Gruyere cheese
9 large eggs
⅔ cup of finely chopped raw broccoli
⅔ cup of buttermilk
Salt and pepper to preference
9 large eggs
⅔ cup of buttermilk
Instructions
Preheat the oven to 400 degrees.

Line the bottom of your pie plate with parchment paper.

Gently lay and press the pastry dough into the pie plate being sure it goes all the way up tocover the sides, if needed you can remove some of the excess dough from one place and add it to another spot that needs more.

Each time I've made this we've needed to rearrange the dough a little and all I do is press it into place a little bit, it doesn't have to be perfect.

Add in the chopped ham, broccoli, cheese salt and pepper. Whisk the eggs and buttermilk together until smooth.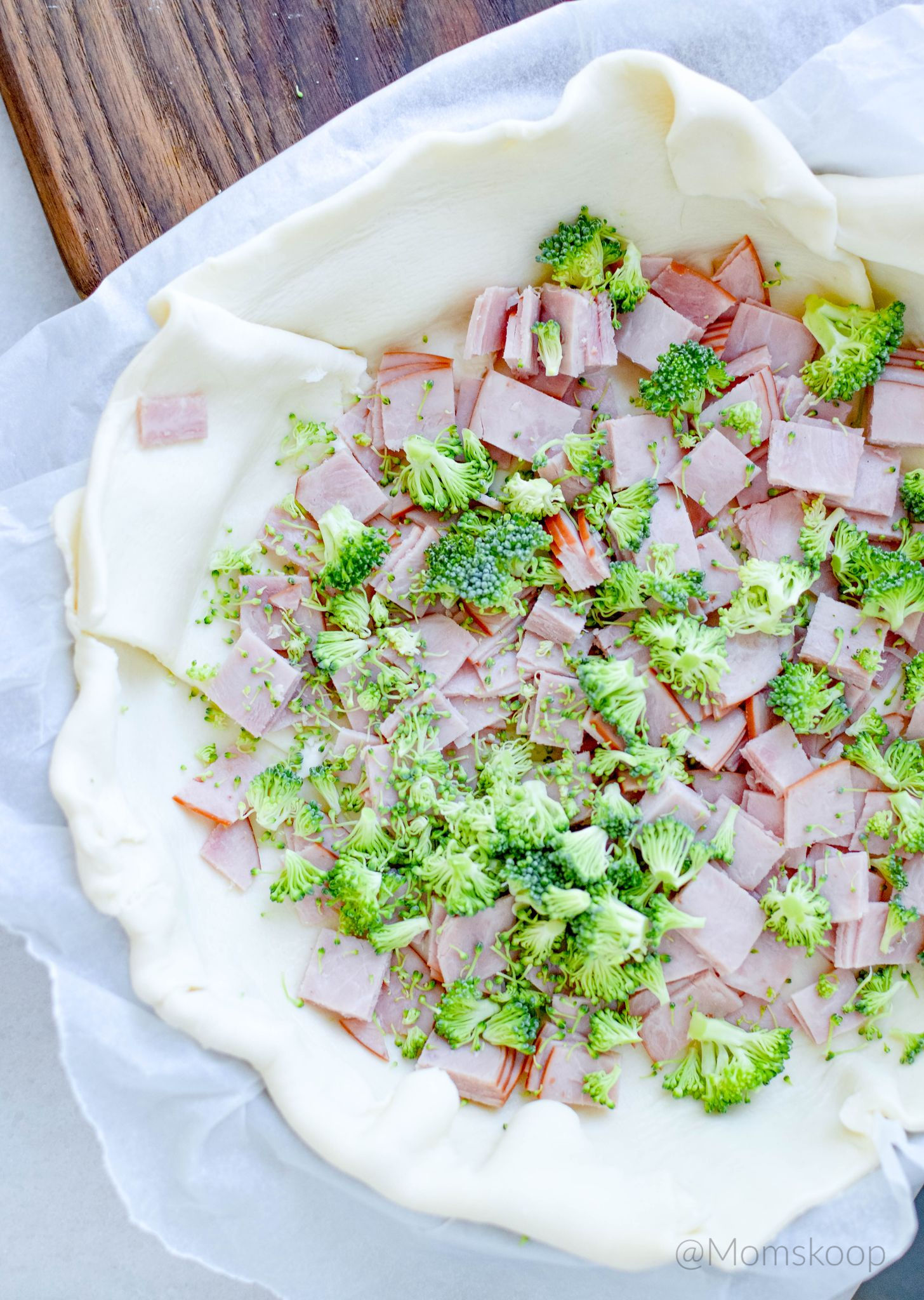 Pour the egg mixture into the dish in a circular motion so it will fill in around the ingredients right away, be sure not to overfill your dish, leave about ½ an inch at the top of unfilled crust space.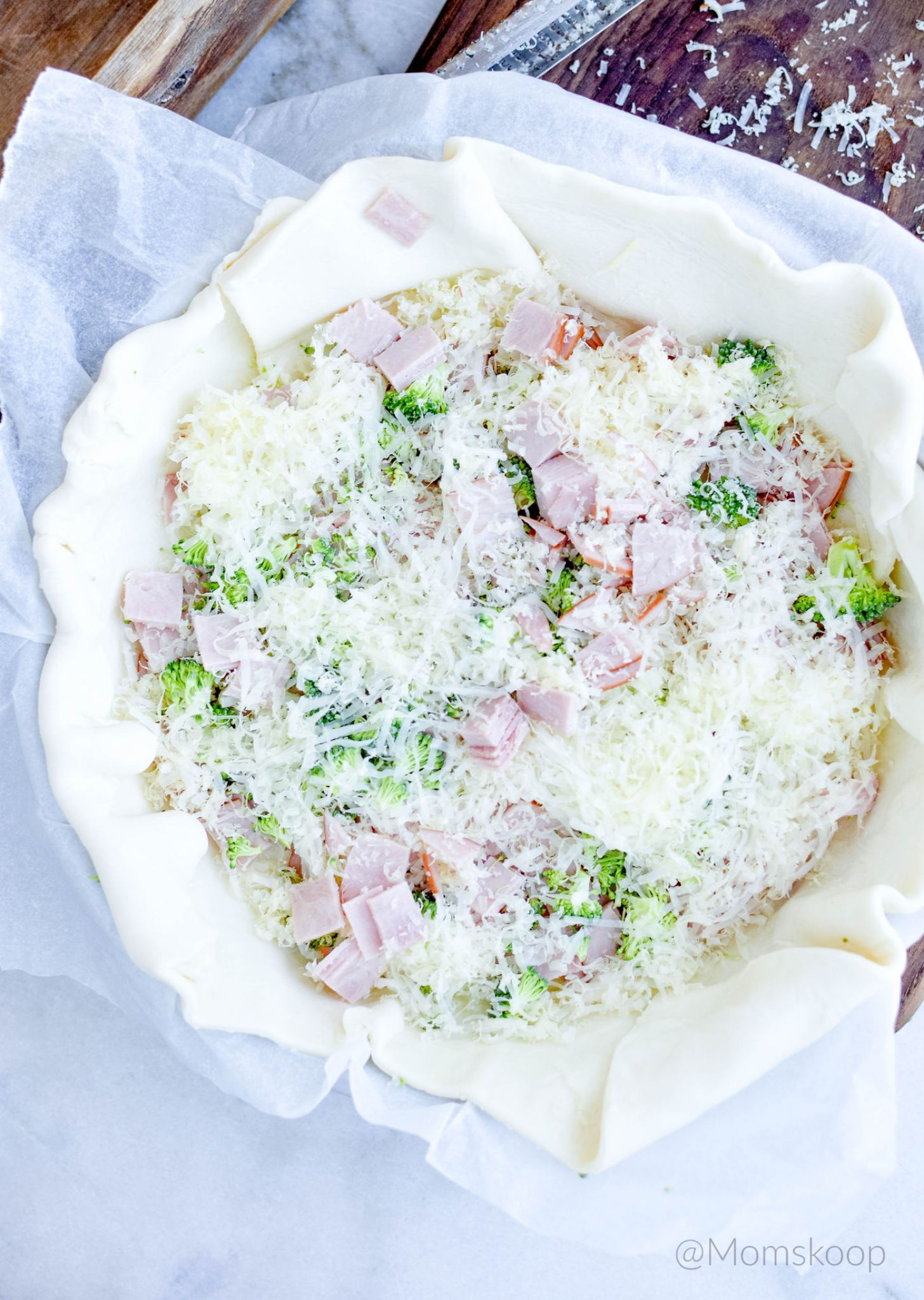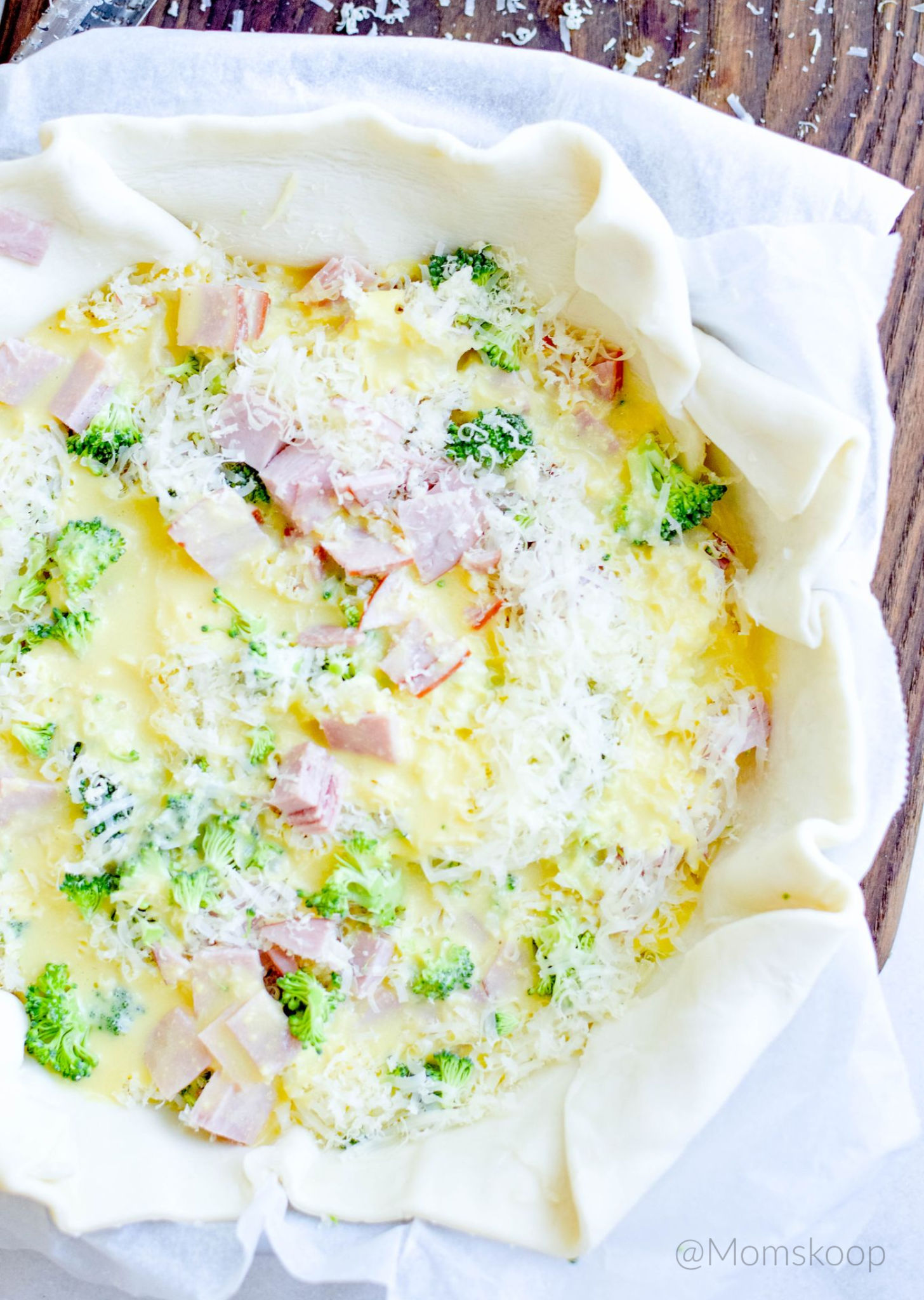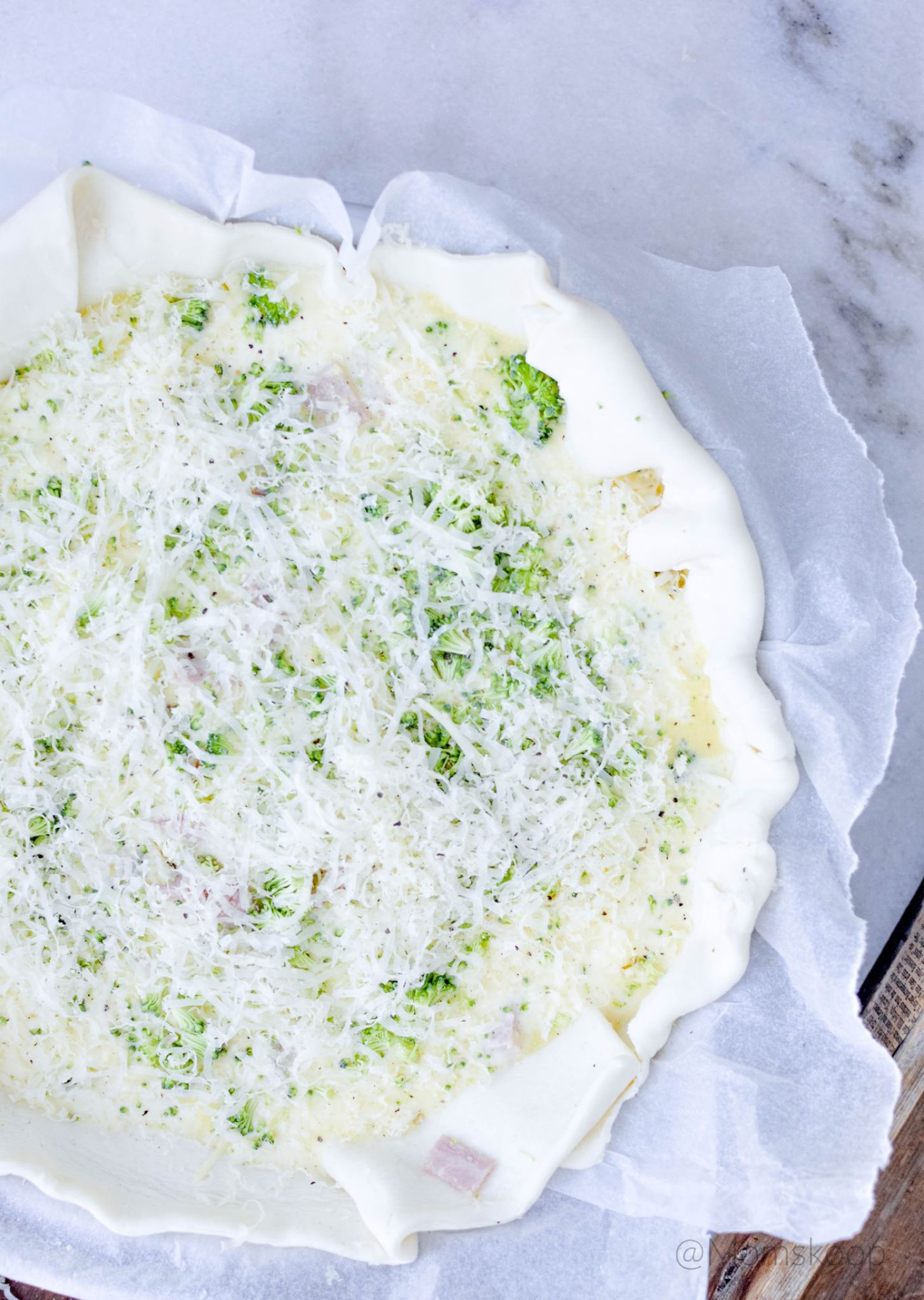 Cover the edges with a guard so they wont burn. Bake for about 25 minutes when the top of the quiche is golden brown.

Then cover with tinfoil for the remaining 20ish minutes.

Bake for about 45 minutes total and then allow to cool for about 15 to 20 minutes before cutting and serving
Nutrition Information:
Yield: 6 Serving Size: 1
Amount Per Serving: Calories: 432Total Fat: 30gSaturated Fat: 14gTrans Fat: 0gUnsaturated Fat: 14gCholesterol: 357mgSodium: 902mgCarbohydrates: 7gFiber: 1gSugar: 2gProtein: 33g