Post contains affiliate links. Purchases made through links provide us with a small commission. As an Amazon Associate I earn from qualifying purchases. Please refer to our disclosure policy for more information.
Once you try this Fresh Mint Coffee, you'll be wondering why you waited so long! This coffee is full of robust coffee flavor and refreshing mint. If you are looking for a different way to change up your normal coffee during the day, then adding fresh mint is definitely the way to go!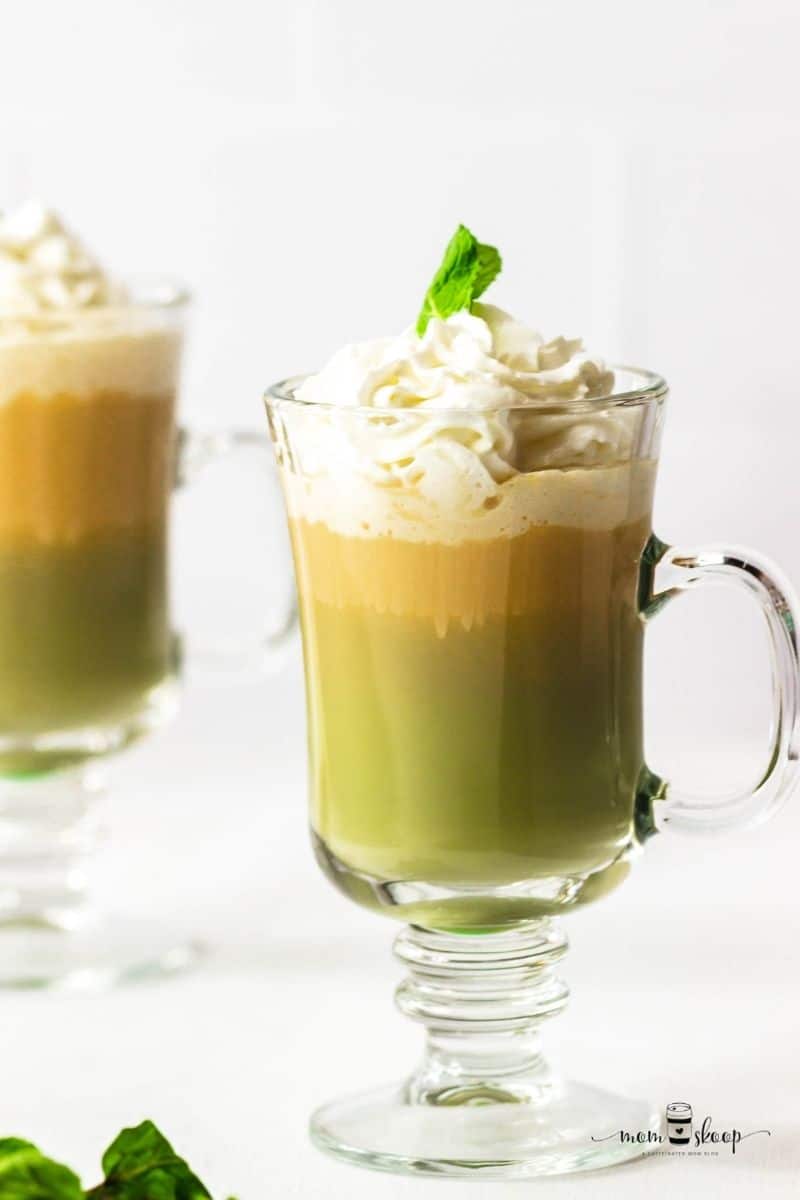 How to Make Mint Coffee
Don't get me wrong, there is nothing wrong with a regular cup of black coffee. I had to laugh typing that as I can remember a time when I didn't like regular black coffee, sans creamer; let alone coffee at all.
One of the great things though about learning to experiment with different coffee recipes is the possibilities are endless! You may decide to never go to a coffee shop again!
If you have tried different coffee flavor combinations that are out of the box, make sure to leave a comment below.
Expert Tips, Ingredient List and Suggestions for Recipe Success
Fresh brewed coffee - caffeinated or decaffeinated is fine. Totally up to you.
Torani Creme de Menthe Syrup - if you haven't tried this yet, you simply must!
Half and half creamer - you can also use heavy cream or your favorite vanilla coffee creamer.
Fresh mint leaves
Whipped cream
Is Mint Good in Coffee?
Yes! It truly is! It's such an unusual combination; however, it's very good.
How Do you Muddle Mint?
"Muddling" is the step of crushing mint and sugar to release the flavor of the herb so it blends with your drink. The smell was wonderful! To muddle mint, you simply place the leaves in a round bowl and use a cocktail muddler or wooden spoon and press the fresh herbs into the bowl. You just want to do it enough to release the juices that are inside the leaves. You don't want to over muddle the mint.
Can you Make this Iced?
Absolutely! Just add in some crushed ice or ice cubes.
Iced coffees are perfect for a relaxing Sunday afternoon or even a late night working at your desk! The caffeine certainly helps beat the 'foggy' feeling.
How do you Add Mint flavor to Coffee?
There are a couple of different ways. You can either muddle fresh mint and add that into your glass or you can use mint syrup, such as the Torani syrup we used for this recipe.
Can I use Mint Extract instead?
You can, however, make sure whatever brand you are buying is food safe. I would start with a very small amount, such as ⅛ of a teaspoon and slowly add it in until you get the flavoring you are looking. But honestly, if you price out the different between a bottle of coffee syrup compared to mint extract, you are better off buying the syrup and using that. Plus, you will have it for a variety of other recipes.
How Can I Enjoy Coffee if I don't like the Taste?
The great thing is that there are a multitude of different ways to enjoy your coffee so you don't have to drink it black! You can:
Add store-bought creamer
Learn to make homemade coffee creamer and add that
You can add a bit of sugar and milk
Get a variety of different coffee syrups and start experimenting.
Choose a lighter coffee such as a light roast, blonde roast, or something similar. If you are making it with a K-cup machine, choose a higher setting so you are adding more water.
What to Give a Person Who Loves Coffee?
Looking for some gift inspiration for that special person in your life who loves coffee? Make sure to out our MomSkoop Store. We will be adding some cool ideas there for the coffee fan in your life.
Step by Step Directions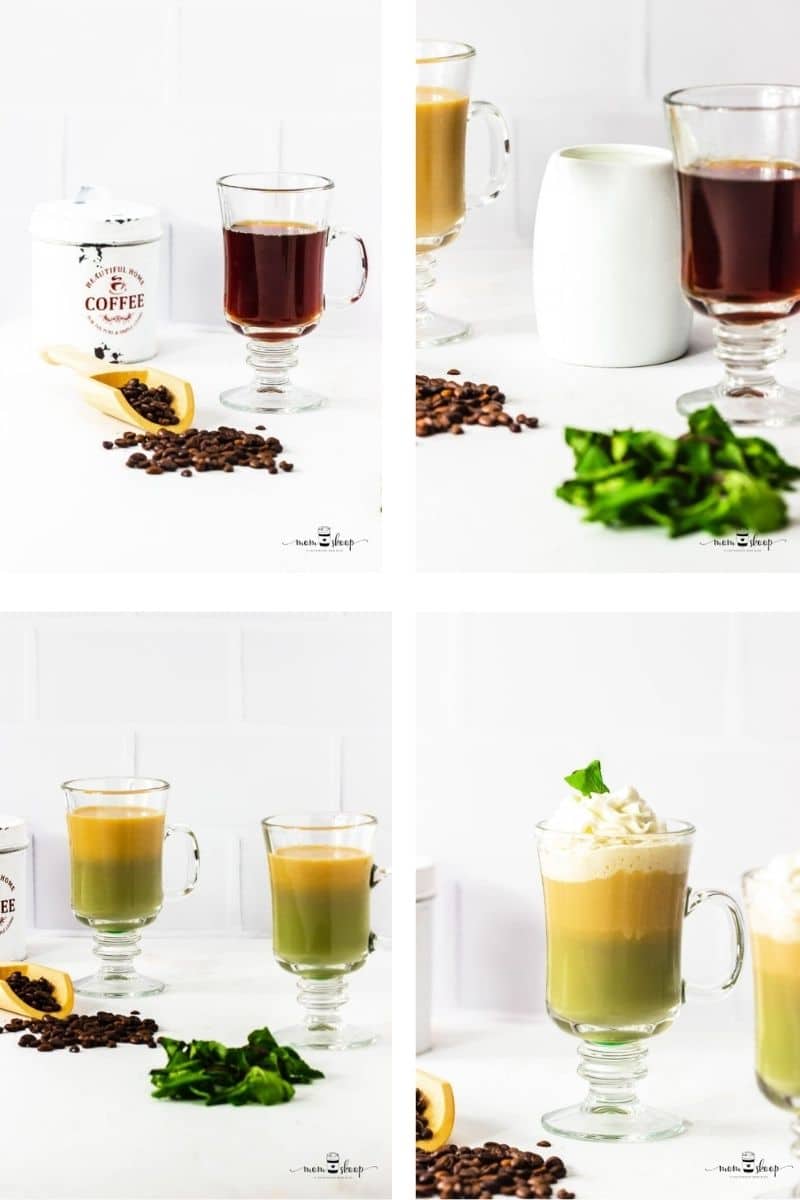 Step 1: Choose your favorite mugs.
Step 2: Brew your coffee.
Step 3: Add in your creamer then syrup.
Step 4: Top with whipped cream (if you prefer) and enjoy!
Related Recipes
Southern Butter Pecan Dalgona Coffee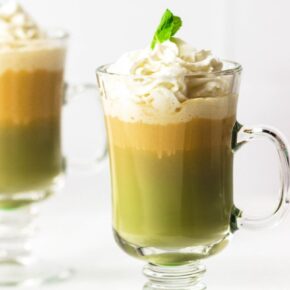 Fresh Mint Coffee
Fresh Mint Coffee is refreshing, creamy, and a unique coffee combination. If you are looking for a different way to change up your normal coffee during the day, then adding fresh mint is definitely the way to go!
Ingredients
8

oz

Favorite brewed coffee

1

oz

Half & half

1

oz

Torani Creme de Menthe Syrup

Fresh Mint Leaves

Whipped Cream
Instructions
Place fresh mint and sugar in a bowl and meddle (crush together with a pestle or wooden spoon, etc) if you are wanting to muddle the fresh mint.

Select your favorite glasses and set aside.

If you muddled the mint, add that into the glasses.

Divide the coffee into the glasses.

Add in your half & half, then if you are using syrup instead of the muddled mint, add that in now.

Top with whipped cream and fresh mint leaves.