Post contains affiliate links. Purchases made through links provide us with a small commission. As an Amazon Associate I earn from qualifying purchases. Please refer to our disclosure policy for more information.
Ever wondered how to Use Installed Fonts in Cricut? If you love downloading free fonts and want to use them with your Cricut, then this post is for you.
If you're wondering what you can create with these free fonts using Cricut design space then you've come to the right place. Today I'm going to share some tips to use installed fonts on Cricut.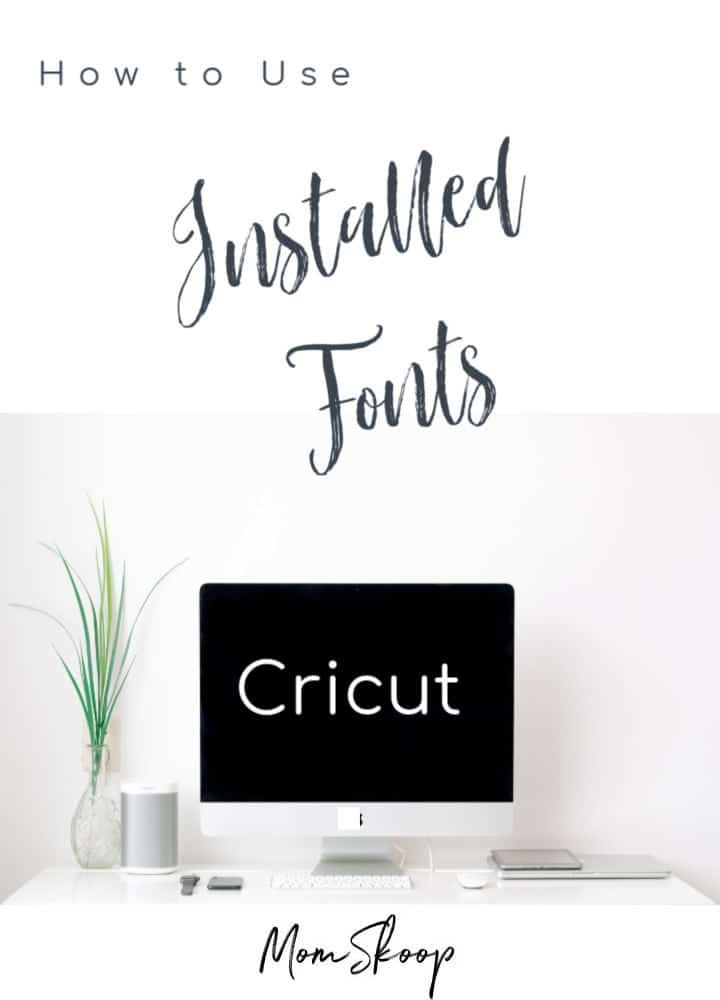 I've shared many downloadable fonts on my site. The variety of fonts I've shared made me realize how Cricut users may be able to utilize these fonts for their Cricut projects. I've featured free creative fonts, free chalk fonts, free Disney fonts, and others.
From installing the fonts to Cricut Design Space to finding projects to use these fonts, you'll find everything you need to use installed fonts on Cricut when you continue reading below.
How do I add fonts to Cricut design space?
You'll need to download the fonts that you want to use to your computer first. That way there's a font file for system fonts on your computer.
Be sure that the font file download has been unzipped. Most font downloads will be in a zip file when downloaded to your computer. Cricut Design Space will not be able to upload zip files.
To unzip the downloaded font package, simply find your zip file on your computer. Right-click and select unzip the file. This will allow the zipped file folder of fonts to turn into a regular file folder for ease of uploading and use in Cricut Design Space.
Log into your Cricut design space and start creating your project. Using the text option, click edit text and then you'll see an option that says "All Fonts".
Click the option for All Fonts and scroll until you see "System Fonts". This will load all of the fonts your computer has saved.
Please note that it will take a few seconds for Cricut Design Space to load your system fonts.
Once you see all of your system fonts, you may select the appropriate font package download to install into your Cricut Design Space for use with your current and future Cricut projects.
Where to Find Fonts to use on Cricut?
Many sites offer paid font options and free font options. I've featured a variety of free font downloads on my site. This helps you enjoy the freedom of creativity without having to pay for the fonts.
Remember that some free downloadable fonts may not be for commercial use, always check the licensing requirements for fonts and images before using on your Cricut projects, if you plan to sell the Cricut projects.
A simple search for fonts online will provide you with a list of places to buy or download free Cricut fonts with ease.
What things can I make with a Cricut?
Now that you have your Cricut fonts downloaded and installed into your Cricut Design Space you may be wondering what things you can make with a Cricut.
The list of projects that people have created using Cricut is so extensive that I couldn't feature just one. If you're looking for some fun and unique Cricut craft ideas for use with these newly downloaded fonts, then consider making some of the following Cricut projects:
Gift boxes and tags.
Baby outfits, like onesies.
T-shirts and Customized Hoodies with sayings.
Greeting Cards.
Oven mitts and coffee mugs with special sayings.
Paper pennants for your next party.
Felt coasters.
Stencils to make creative wooden signs for home décor.
And so much more!
I'm always amazed at what people have created using downloadable fonts on their Cricut machine. The list of project ideas is endless. All you need is a few basics on how to use your Cricut machine, some beautiful fonts available, and the ability to use Cricut Design Space to its full capacity.
If you're fairly new to learning how to use a Cricut Machine then you're not alone. Many people have started to get into the fun Cricut addiction. This beautiful machine is affordable, has many models and color variations available.
The Cricut Machine combined with their EasyPress is a fabulous way to start using my free to download fonts to create an iron-on vinyl t-shirt, car decals, or fun signs for use as home décor.
I hope that you've learned a little more about how to use installed fonts on Cricut today. I can't wait to see what you create next with your new fonts using your Cricut Machine.