39 FREE DISNEY FONTS – Moana, BFG, Zootopia + More Favorites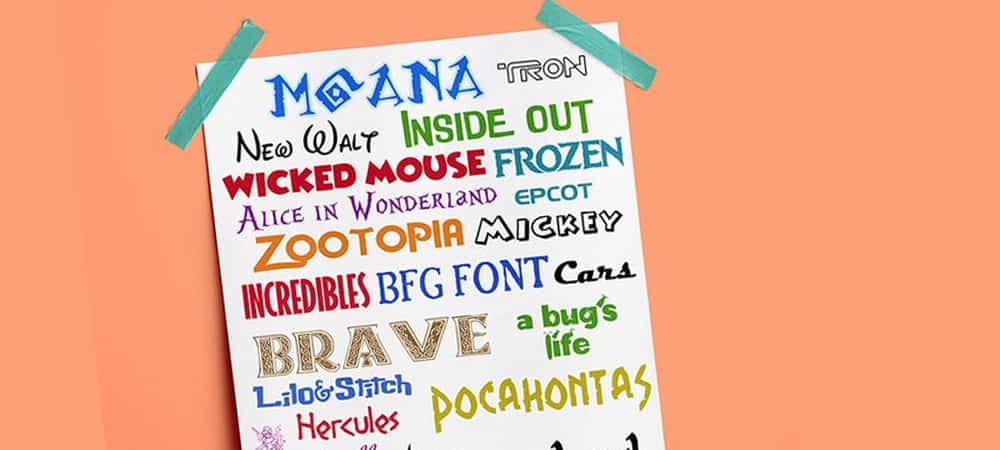 Here are 39 Free Disney fonts for your next creative project. If you just love all things Disney, these are great for making your own stationary, personal party invitations, printables and more.
Important Note: Due to copyright, Disney fonts are for personal use only – commercial use is not allowed.
39 Free Disney Fonts – Part 1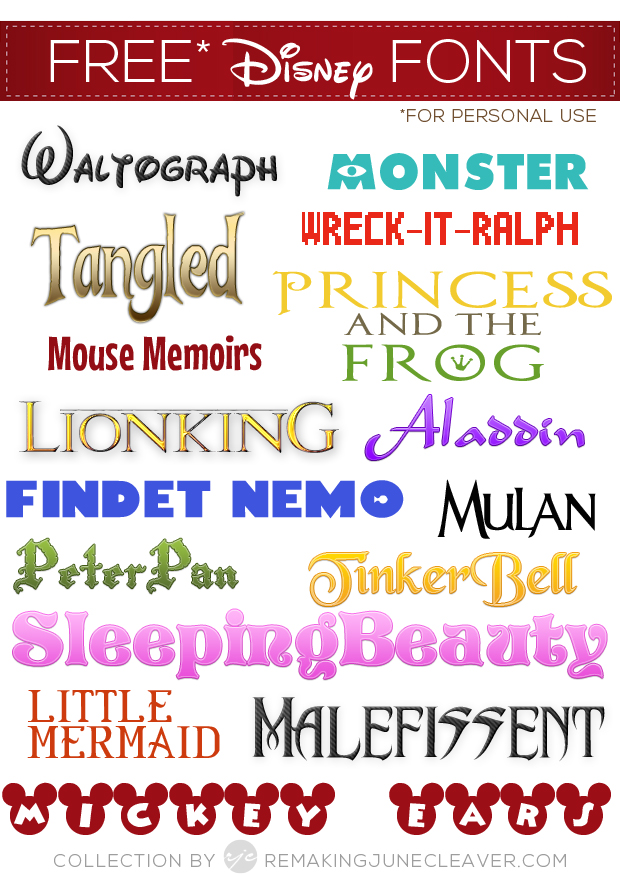 Waltograph  //  Tangled  //  Princess and the Frog  // Monster AG  //  Mickey Ears  //  Findet Nemo  //  Mouse Memoirs  //  Aladdin  //  Malefissent  // Lion King  // Mulan  // Peter Pan (Rapscallion)  // Sleeping Beauty (Storybook)  // Tinker Bell (Chancery)  // Little Mermaid *currently unavailable as of 8/3/15// Wreck-it-Ralph (Sonic Advance)
Need help? Click HERE for info on installing and using fonts.
Keep going for 23 NEW fonts!! ↓↓↓
Now Updated! We added 23 MORE Free Disney Fonts just for you! Grab some fonts for your current favorites like Moana, Inside Out, Zootopia, Avengers, Frozen, Lilo & Stitch, Brave, Star Wars, and more.
23 MORE FREE DISNEY FONTS

Moana // New Waltograph // Inside Out // Wicked Mouse // Alice in Wonderland // Tron // Zootopia // Incredibles // BFG Font // Mickey // Frozen // Brave // Lilo & Stitch // Cars // Hercules // Cinderella (fancy) // a Bug's Life // Pocahontas // Avengers // Star Wars // Big Hero 6 // Disneyland // Epcot //
Searching for a Free Disney Font that you don't see here? Leave a comment at the end of the post and maybe we can add it in the next update.
Need Disney Party Supplies?


---
These fonts are available for free personal use as of the publishing date of this article. Commercial use is not allowed. Please check license info on each font's download page for current information before using.
Need help? Click HERE for info on installing and using fonts for Windows and Mac.
Planning a trip to Disney in the near future? Make sure to check out these fun posts:
Tags :
featured
fonts
free fonts
trends