Post contains Amazon Affiliate links. As an Amazon Associate I earn from qualifying purchases. Please refer to our disclosure policy for more information.
Homemade Pico de Gallo, also known as Salsa Fresco, is a classic Mexican side that is full of tomatoes, jalapenos, onions, cilantro and lime juice. If you are looking for a delicious way to use up those fresh tomatoes from the garden, then whipping up a batch of homemade salsa is it! Believe me, once you take a bite of this fresh salsa, you will be wanting to make it all of the time.
I think the best part about Pico is that you really don't need to eat it with anything but tortilla chips! It's just THAT good!
Pico de Gallo really is such a simple recipe and you can change it up for own family's taste buds. It's very versatile! Of course Pico is a not only great with tortilla chips, you can also serve it on top of tacos, such as our Chicken Tacos, on top of Enchiladas such as my Creamy Beef Enchiladas, and it also works great on our Doritos Nacho Casserole.
Pico is a Mexican Salsa that is made with fresh red tomatoes, garlic, onion, cilantro and jalapenos. If you are looking for other salsa recipes, then check out my Salsa Verde recipe.
❤Why Should I Make This Recipe?
You should totally make this recipe because it's:
Versatile - you can adjust the amount of heat as well as the amount of the vegetables.
Easy - this easy side dish can be made in less than 15 minutes.
Budget-friendly - this recipe is a great way to use up all of those ripe tomatoes!
🥘Ingredients
Tomatoes - you can use any variety of tomatoes that you have on hand. But most importantly, make sure they are ripe.
Onions - you can use yellow sweet onions if you prefer.
Cilantro - not everyone is a fan of this herb. You can certainly just prepare it and serve it on the side.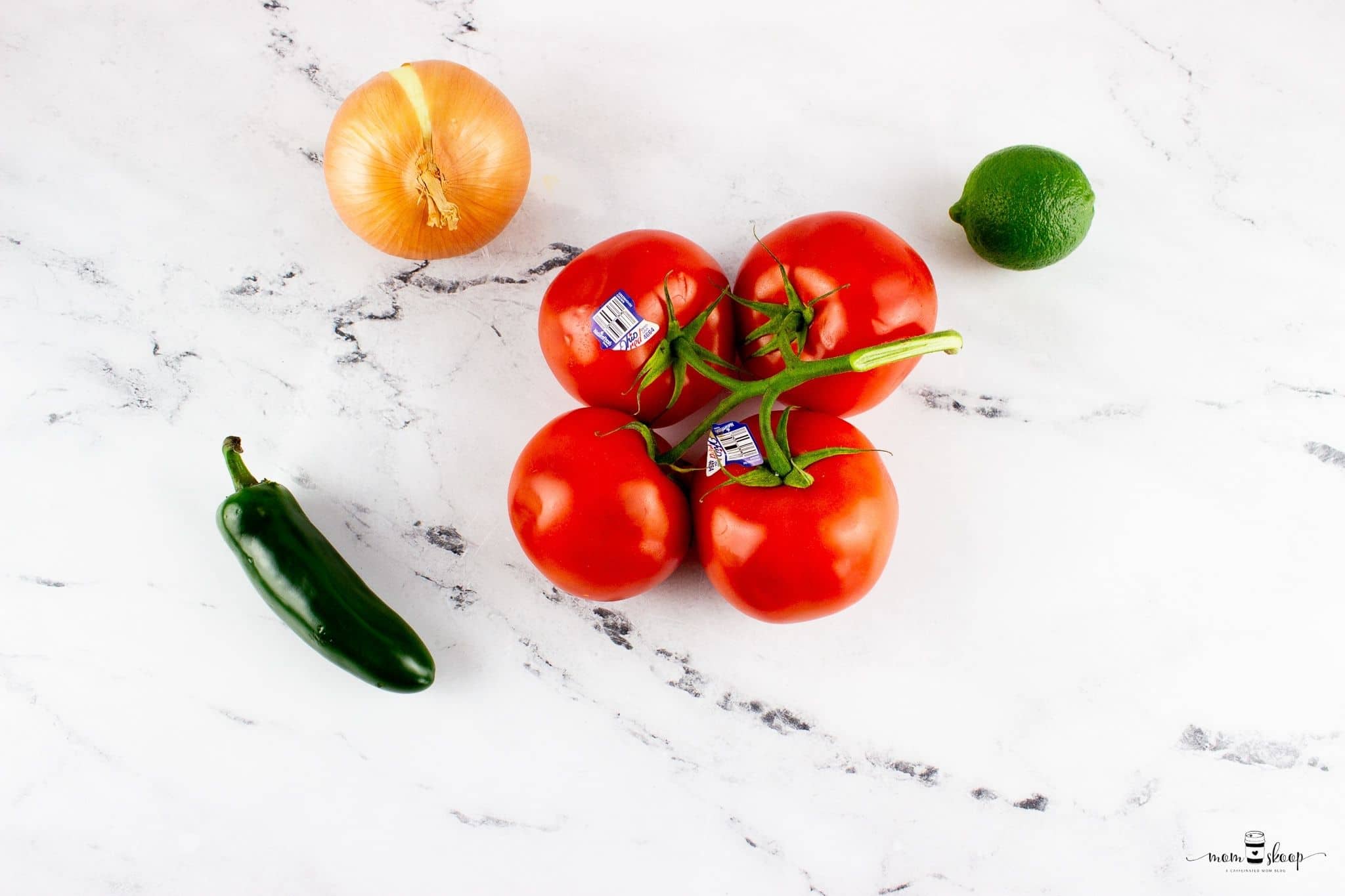 🔪Instructions
You will find the complete breakdown of the recipe in the printable recipe card below. I have included basic steps and a few in-process photos for your reference.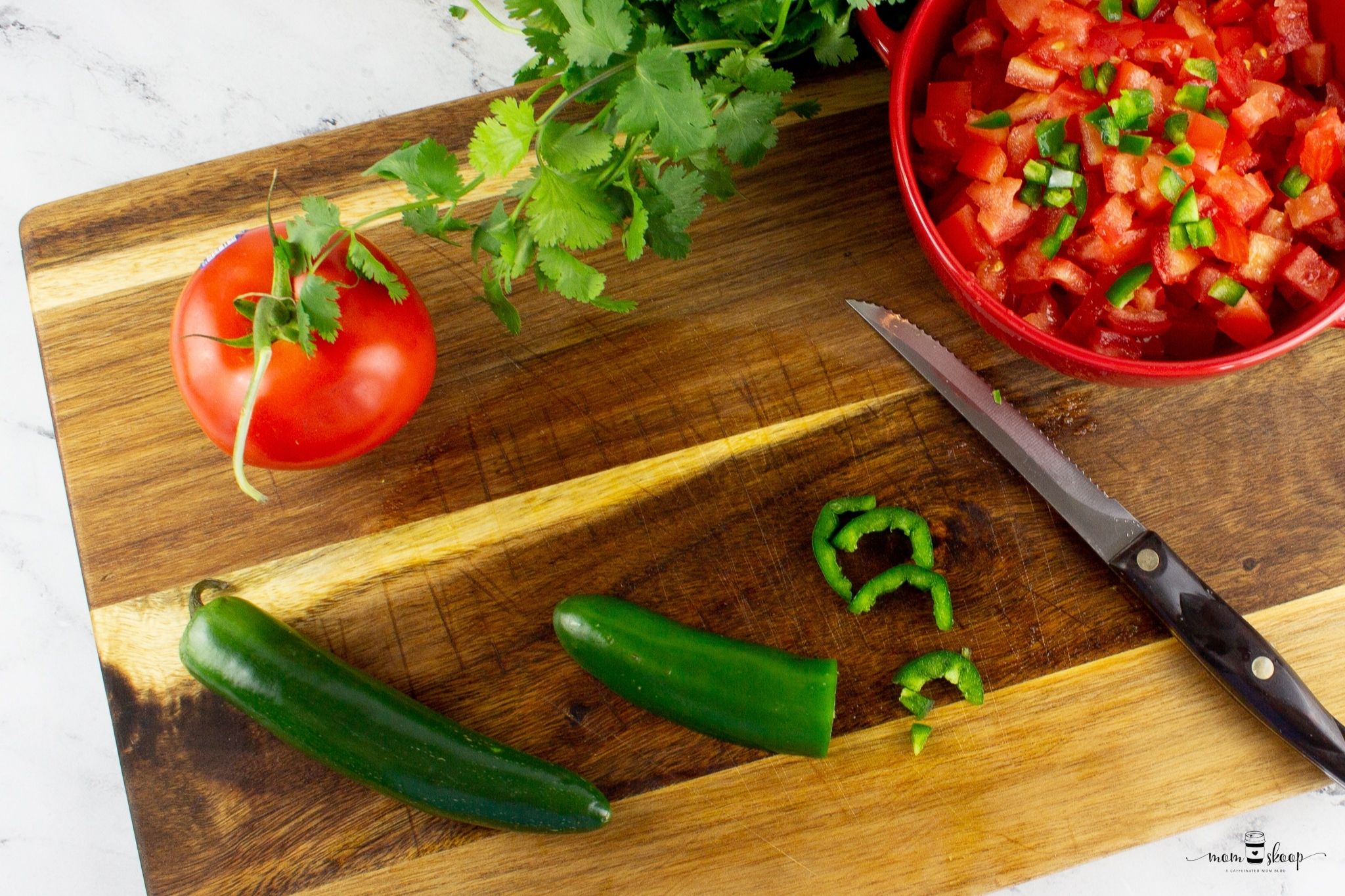 🧾Substitutions
Cilantro - you can omit this if you prefer.
Poblano peppers - you can use these instead of the jalapeno. To really take the dish to a new level, roast the peppers first.
📖Variations
Breakfast tacos - can you imagine this freshness on top of tacos in the morning or for brunch! Yum!
Taco Charcuterie Board - make up a taco board full of all of the ingredients to make tacos and add different types of salsa and chips as well. This will definitely be a delicious hit with the family!
🥫Storage
It will last up to a week when stored in an airtight container in the fridge.
Top Tips
One of the most important things about making pico is to use fresh ripe tomatoes. It's a must.
Save this recipe to celebrate Cinco de Mayo in style!
Eating pico is actually good for you and you don't have to feel so guilty about eating it since it's full of fresh vegetables.
When you are harvesting your garden, this is a great way to use up some of those ripe vegetables.
If you haven't bought one of these yet, you simply must buy one! It makes it so easy to get all of the juice out AND you won't get the seeds!
Make this first and then put into the fridge while you prepare the rest of the meal. That way the flavors have time to marry.
🔎FAQ
What dishes can you serve Pico de Gallo with?
Of course the best way to eat Pico is with tortilla chips, however, it goes great on any Mexican dish such as enchiladas, tacos, taco salads, chimichangas, burritos, fajitas, and of course nachos.
Is it true you need to wear gloves when cutting up jalapenos?
I always recommend wearing disposable food grade gloves when handling them. I thought I had washed my hands thoroughly once, but the oil had gotten underneath my nails. My fingers burned for quite some time.
Do you need to remove the juice and seeds from the tomato when dicing them?
When I am making salsa or cutting up tomatoes for salads, I will remove the insides. However, if I am slicing up tomatoes for sandwiches, I leave the insides.
Isn't Pico de Gallo and Salsa the same thing?
Pico is a type of salsa that is made with the same ingredients as salsa, however, traditional salsa has a thinner consistency. What sets Pico apart is that you can see each delicious ingredient.
Related Recipes
📖 Recipe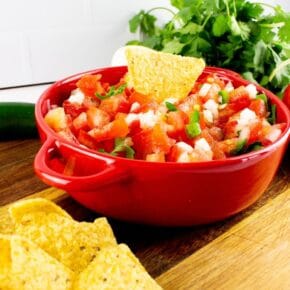 Classic Pico de Gallo Recipe
Pico de Gallo, also known as Salsa Fresco, is a classic Mexican side that is full of tomatoes, jalapenos, onions, cilantro and lime juice.
Equipment
Citrus juice press

cutting board

sharp knife

disposable food gloves
Ingredients
1

cup

red onion

finely chopped

1

medium jalapeno

seeded and diced

Juice from one lime

Salt to taste

3

large tomatoes

middle cut out and diced

½

c

fresh cilantro

chopped

1

clove

garlic

minced (optional)
Instructions
First, wash your vegetables and let them dry.

Chop up your onion, tomatoes and jalapeno and place them into the bowl. Make sure you are wearing the food gloves when prepping the pepper. The oil from the seeds will get under your nails. And believe me when I say if you itch your eyes with that oil from the seeds on your fingers, your eyes will definitely burn.

Then add all of the cut up vegetables into a medium sized bowl.

Next, pull the leaves off of the cilantro sprigs and cut them up with your kitchen scissors and add them into the bowl and stir the ingredients together.

Cut the lime in half and then put each half in the juice press. *Tip: If you haven't bought one of these yet, you simply must buy one! It makes it so easy to get all of the juice out AND you won't get the seeds! Brilliant!

Stir all of the ingredients together and salt to taste. Serve with your favorite tortilla chips, eat it with a spoon, pita chips or whatever you prefer and nosh away!
Nutrition
Serving:
1
g
Calories:
77
kcal
Carbohydrates:
18
g
Protein:
1
g
Sodium:
152
mg
Fiber:
2
g
Sugar:
14
g